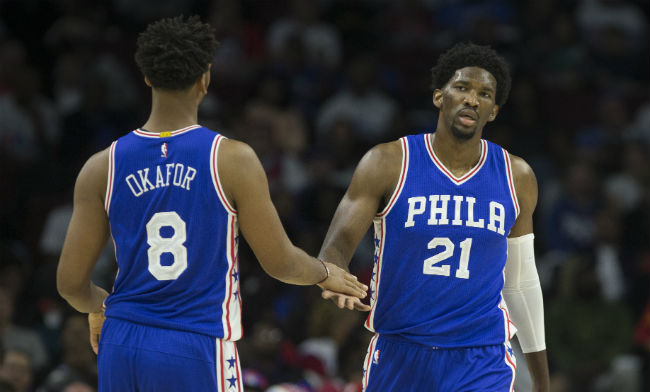 Jahlil Okafor was finally freed from the Philadelphia 76ers on Thursday when the team traded him to the Brooklyn Nets. The reaction to the deal was mostly relief from everyone who watched Okafor toil on the bench, and the conclusion of the saga means the Nets continue to reshape their roster.
But the reaction from current Sixers players was eagerly anticipated, as many had expressed their support for Okafor despite his lack of playing time in games. One teammate and close friend, Joel Embiid, was a particular subject of interest. And his comments on the trade certainly did not disappoint.
Embiid spoke to the media before the Sixers hosted the Los Angeles Lakers, and much of his interview dealt with the departure of his friend. While Embiid had kind words and well wishes for his now-former teammate, he made it clear he's not going to be afraid to punish him now that he's a Net.

"I was really happy for Jahlil because he's gone through a lot the past couple of months," Embiid said. "I was really happy for him and excited."
Embiid said he found out when he saw it on the news, then sent his friend a text.
"I was just like 'Love you. New beginnings. Love you. Good luck,'" Embiid said.
Done with the sentimentality, Embiid also added that his friend better watch out now.
"I made sure to let him know I was going to kick his ass," Embiid said. "We play them four times a year so I let him know every year four times a year I'm going to kick his ass."
Losing a friend in a trade is never easy, but it seems like Embiid is taking this pretty well. It was time for everyone involved to move on, and Okafor will finally get a chance to play in Brooklyn. Problem is, he'll have to play against Embiid quite a bit.