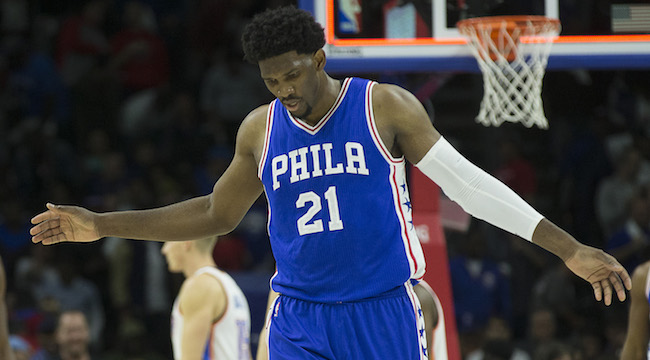 Joel Embiid recently received a fine from the NBA for using profanity (in LaVar Ball's direction) on social media. While the Philadelphia 76ers big man did a good job in avoiding further scrutiny by refraining from using more pointed language, Embiid wasn't exactly overjoyed when his rating in the upcoming NBA2K game was unveiled.

Embiid reflected positively on his defensive impact, saying he believed he was "the best defender in the league" when healthy and on the floor during his rookie campaign. With that as the backdrop, Embiid asserted that he should be "at least a 95" and reacted when his actual rating of 86 came down.
After the fact, though, Embiid came to a (very) reasonable conclusion that his durability rating may have negatively affected his overall evaluation from the perspective of the game.
Given that Embiid has appeared in exactly 31 games over three seasons since being drafted in 2014, it is probably safe to assume that his durability score isn't off the charts in a positive direction. Still, this is yet another example of Embiid's social media savvy shining through and, when healthy, the young center is certainly better than a typical player rated with an 86 overall.
Paul George was alright with his rating, so it isn't as if every NBA player was upset but Embiid has every right to question things and he wouldn't be himself without a shot across the bow at NBA2K for undervaluing him.