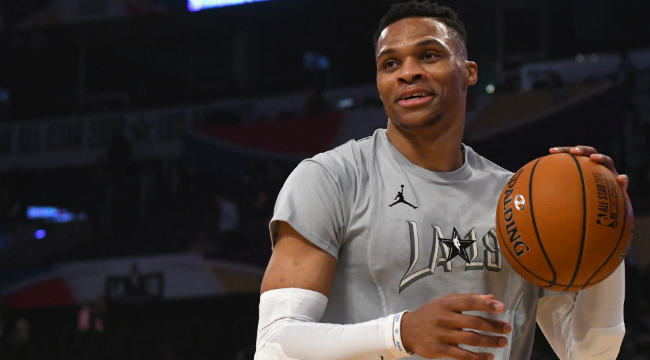 Joel Embiid and Russell Westbrook don't seem like they're especially big fans of one another. At the very least, the pair have had no problems expressing that they enjoy getting under the other person's skin this year. The Sixers and Thunder have played twice this season, and both times, Embiid and Westbrook have got into it in one way or another.
The bad blood between the two carried over to the 2018 NBA All-Star Game, if only for a moment. At one point in the second quarter, Embiid canned a three from way behind the three-point line. Because it's the All-Star Game, Embiid took a second to celebrate the jumper.
This led to Kevin Durant firing an inbounds pass to Westbrook with the hopes of catching Embiid sleeping. Embiid, however, became aware of what was happening, and swatted Westbrook's layup attempt.

The two have a history, which means that, obviously, everyone tried to assume that something much deeper than "Westbrook tried catching him napping but failed" happened. And for all we know, Westbrook was trying to clown Embiid. But we do know, the Sixers' young star was trying to just make a statement, regardless of who was trying to score on him.
Both players are competitive guys, the exact kind of dudes who would go at one another in an All-Star Game regardless of their feelings on one another.