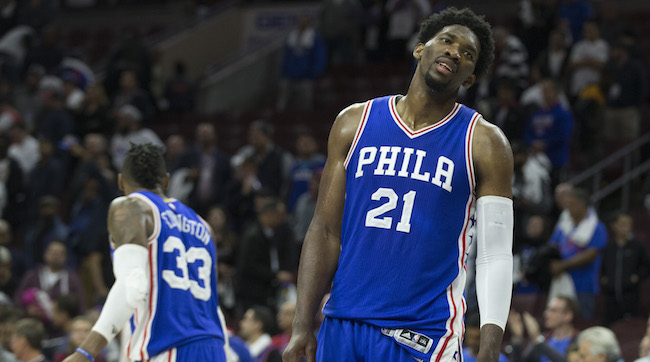 Joel Embiid has been one of the breakout stars of the 2016-17 season, despite playing on a minutes restriction and being on one of the NBA's worst teams.
Embiid has brought the Sixers out of the Eastern Conference cellar with his stellar play, despite appearing in only 31 games and playing 25.4 minutes per night. The young star, who is currently dealing with a left knee injury that's kept him out of action for the past week-plus of action, has averaged 20.2 points, 7.8 rebounds and 2.1 blocks per game despite the limited action and minutes restriction.
That high level of play has Sixers fans thrilled and has given them a tangible reason to be optimistic about the future for the first time in years. However, not everyone is buying in just yet.
Shaquille O'Neal is among the skeptics of Embiid's incredible start to his career. Embiid is putting up numbers that haven't been seen from a young big man since O'Neal, but the Hall of Famer isn't ready to give Embiid his stamp of approval until his minutes and the regularity with which he plays comes up.

"He's playing good, but I think a lot of people will say, is he only doing it because he's playing a little bit," O'Neal told UPROXX Sports. "Not only [just playing] 28 minutes a night. Like, when I first came in I played 70 games my first year. That's what the NBA's all about. Play, day off, play, play, day off, day off, play. You know, five games in seven nights and that stuff. So, with him being able to just pick and choose when he wants to play, he always has fresh legs so he's always going to have the advantage. And then, with nobody ever having seen him before, that also gives him another advantage. Now that people know he's a pretty good player, when his minutes start to come up we'll see.

"I don't give credit too early for one reason: I never got my credit early. So, like, the problem with today's game is everyone can do their own editing. So like now if he does a great play, I send it to you, you send it to him, he'll tweet it and everyone will see it and that's what's in everyone's mind. "Oh my god, he's a great player," but it takes more than one or two plays to be a great player. So I'm going to hold back my thoughts. However, he's pretty good and I like what I see. But I wonder if he has an advantage because he plays 28 minutes a game and takes two games off."
O'Neal is among the toughest critics of young big men in the NBA, having been the league's most dominant physical force during his career. He laments the lack of traditional big men in today's NBA and post play, in the way he did it by getting the ball and going to work with his back to the basket regularly, being pushed to the fringes.
Embiid has skills that are rare for big men, both as a traditional post player with his fantastic footwork and as a shooter that can space the floor. There's no denying that skill set, on both ends of the floor, but O'Neal wants to see if he can take advantage of opponents the way he has when he's playing a full season.