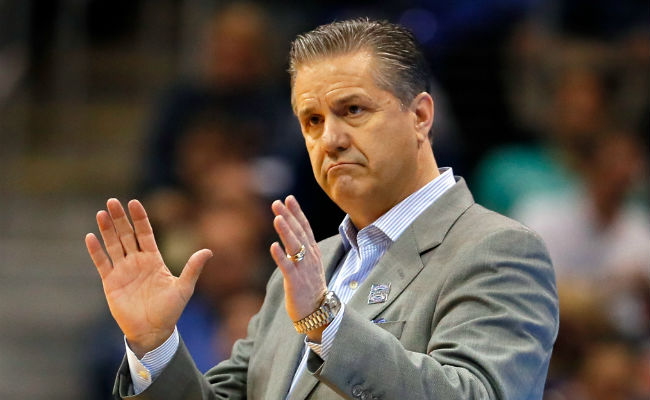 The NBA's eligibility rules offer boon of athletic talent for NCAA men's basketball teams since the rules forced high school players to wait a year before entering the NBA Draft. University of Kentucky coach John Calipari is certainly one coach who has made the most of those rules, encouraging freshman to come to Kentucky, play for a season, and then go make that money.
But Calipari is open about his thoughts on the one-and-done rule, and he isn't interested in preserving it to keep his pipeline of frosh talent to fuel his program. Even if it helps him, the Kentucky coach says the rule should be changed and players and their families should be given the option to go directly into the NBA Draft from high school.
Calipari spoke at a TCU basketball camp in Fort Worth, Texas, over the weekend. He also sat down with the Star-Telegram's Max Engel for a wide-ranging interview that included the coach revealing he's talked to the National Basketball Player's Association about eliminating the rule altogether.

Calipari said, among other things, that there should be no "restrictions" on anyone coming out of high school.
"Kids should be able to go (to the NBA) out of high school. That's not our deal. That's between the NBA and the Player's Association," Calipari said in a conversation that took place in the office of TCU basketball coach Jamie Dixon. "Don't put restrictions on kids."

"If they want to go out of high school, go. If they want to go to college and then leave, let them leave when they want to leave," Calipari said. "Why would we force a kid to stay? 'Well – it's good for the game?' It's about these kids and their families. Because let me tell you, if we (abolish one-and-done), the kids that do come to college will stay for two to three years."
The Kentucky coach also suggested that a combine of sorts is held for players graduating high school, and that more effort should be made to help prospects and their families understand their options after high school.
"The players and the families need to know – here are the ones who should be thinking about the NBA, and here are the ones who should not," he said. "That's why you need a combine."
Calipari said he actually met with the union to talk about setting up a combine, and that he'd encourage the G League to grow as a developmental league for the NBA as well. He also said agents should be more involved at the high school level to explain options to prospects. It's a practical stance to have regarding a rule that's likely leaving sooner rather than later, but it also speaks to the confidence Calipari has in himself and his program.
"Whatever the rules," Calipari said, "we're going to be fine."
(h/t Slam)