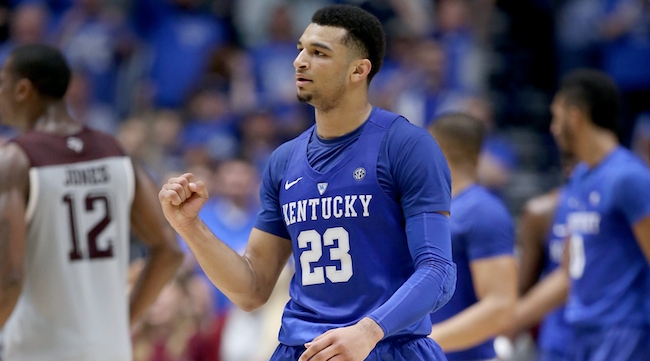 It would be a bit of a shock if the first pick in the 2016 NBA Draft was someone other than Ben Simmons or Brandon Ingram. For months, those two have been viewed as the top prospects in the draft, and you can make a really convincing case for why the Philadelphia 76ers should take either dude.
Kentucky head coach John Calipari thinks that a third name needs to be added to this discussion: one of his stars from last year, Jamal Murray. There aren't many players in this draft who are better shooters than Murray, which Calipari believes the Sixers need more than anything.
"He can stretch the defense, play off the ball and the NBA is going position less," Calipari said on the podcast. "He can flat-out shoot the ball and is physically ready."

When asked why the Sixers should take Murray over Simmons or Ingram, Calipari said, "What does Philadelphia need more than anything else? Someone to make shots and guard play. I am biased. I want my guy. But he can play multiple positions, he can physically step in and play right away. He can play the point. He can score in bunches. You watch Golden State. Who really is their point guard? Whoever has it."
Calipari is right about Murray's ability as a shooter. He hit 40.8 percent of his threes during his only year in Lexington, and during a pre-draft workout in Boston, Murray showed off his ability to hit shots from downtown.

Furthering his praise for Murray, Calipari said the 6'4 Canadian combo guard is the "safest" pick in the draft. He also pointed to guys like Derrick Rose and Karl-Anthony Towns as proof that if you want a star, you should pick someone who came up in his program.
Calipari is right in that Murray would be an outstanding fit on the Sixers, as they really need a guard who can shoot and run an offense, but you'll be hard-pressed to find a draft expert who thinks Murray should be a top-two selection. Now, if Philly were to put together a picks and players package in an attempt to move back into the top-10 after selecting Simmons or Ingram, then it would probably be smart to take a player with Murray's skill set.
If not, that's also okay. The Sixers are going to end up getting a really good player no matter who they pick at No. 1, and wherever Murray lands, he's so good and well-rounded that he should be able to make an impact.