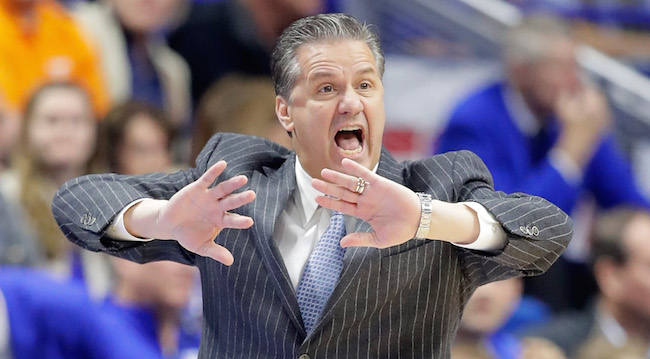 The No. 11 Kentucky Wildcats found themselves in a battle at halftime on Tuesday night during their road trip to Missouri, leading the Tigers by a slim 31-30 margin at the break. SEC Network sideline reporter Laura Rutledge caught up with Calipari as he was headed to the locker room for an on-court interview. While Cal answered her first question, he was bombarded with "Cal, you suck" chants from the Mizzou faithful.
This didn't sit particularly well with Calipari, who quickly turned after answering the first question to head to the locker room, and when Rutledge asked about the student section, he didn't even look back and strolled away.
This surely isn't the first (or last) time Calipari will hear chants from an opposing student section and he's probably pretty used to it by now, but it's clear that Coach Cal wasn't trying to stand around and listen to it from the Missouri student section.
Calipari is to college basketball what Nick Saban is to college football and Bill Belichick is to the NFL. He's viewed by fans of every other team as the manifestation of pure evil, but they would welcome him into their program in a heartbeat because he gets results. In the end, Cal's Wildcats silenced the Missouri crowd with a 72-62 win in Columbia.
(h/t Sporting News)