This summer, while every team will try to court marquee free agent Kevin Durant to their team, sneaker companies will likewise be trying to lure free agents to their squad. John Wall, Kristaps Porzingis, DeMar DeRozan, Bradley Beal and Harrison Barnes will all be free agents this summer when it comes to their shoe contracts, and there will be a bidding war for their endorsements. Yet, while all of those players are enticing, it's Wall and Porzingis who stand above the rest in terms of marketability and potential profit. As Nick DePaula of The Vertical reports, sneaker reps are enthralled with Porzingis.
When I texted a sneaker executive last week to gauge his favorites from this summer's class, it only took him a matter of seconds to respond: "PORZINGIS."

[…]

The early expectation from industry sources is that Porzingis will be looking for a long-term shoe deal with a brand already entrenched in the U.S. market such as Nike, adidas or Under Armour. The trio of top Chinese brands, Peak, Li-Ning and Anta, can all make strong cash offers, but have still struggled to elevate players in stateside marketing campaigns.
There's an old adage that big men simply aren't as marketable as guards — LeBron James being the rare exception, of course. Porzingis is a different story. He moves like a guard, doesn't play like a typical, back-to-the-basket big, and has a personality ripe for big marketing campaigns. Those factors, combined with the fact that Porzingis looks to be a star in the making, and it's easy to see why companies are going to chase the big man with big money this summer.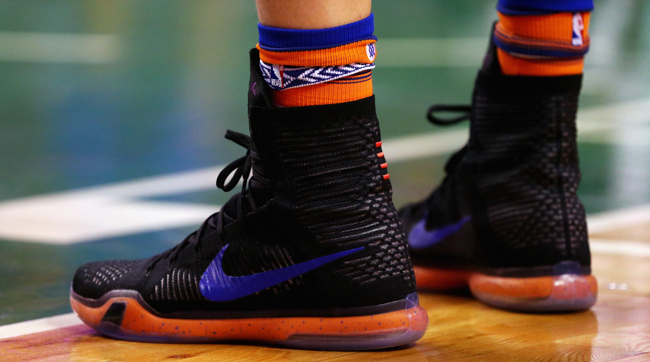 Wall, meanwhile, is an interesting case. As DePaula reports, the Wizards guard turned down an extension from adidas, his current shoe company, that would have net him $7.5 million per year. Instead, he prefers to test the open market. He's an incredible player, certainly one of the most exciting in the league, but for one reason or another, he's never reached the same marketing heights as, say, Damian Lillard or James Harden, who are both also with adidas. Perhaps that's because of Washington's lack of overall success, specifically this season, or maybe it's a failure of adidas' marketing. Either way, Wall's a star, and and shoe companies can never have enough of those. Maybe whoever he signs with this summer will launch Wall into the stratosphere of popularity where he belongs?
The answer comes down to a matter of preference, then, as far as who is the better target. Would you rather have the established star, even though his popularity isn't where it should be? Or would you prefer the still-budding Porzingis, even with the inherent difficulties of marketing big men and the difficult terrain that stands in front of him and superstardom? There's no wrong answer, either way, and whomever these players choose to sign with are going to make a lot of money from these endorsements.
(Via The Vertical)