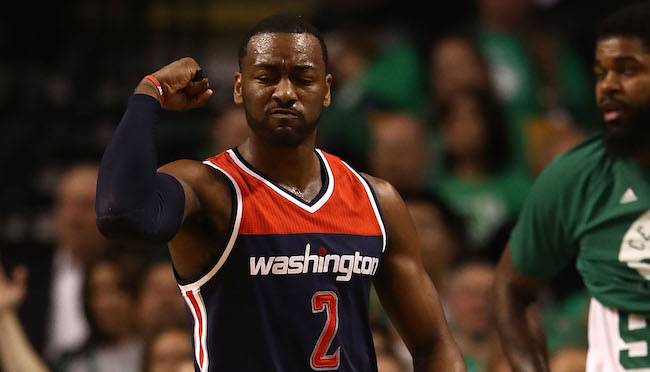 Player ratings for NBA 2K18 have slowly begun trickling out as 2K Sports has released individual overall ratings for a select number of players via their social media channels. For the most part, players have taken the news in stride, with some, like cover athlete Kyrie Irving, using his 90 overall as motivation for next season.
Wizards point guard John Wall also received a 90 overall and, like Irving, he felt he should've been rated higher than that, but unlike Irving, Wall let Ronnie 2K know that he wasn't pleased with that number. Of the few point guards to be revealed so far, Wall comes in at a tie for second with Irving, behind Steph Curry at a 94, but based off the final ratings update from last year, the 90 puts Wall right where he was prior to the playoffs — tied for fourth among all NBA point guards.
Wall wasn't the only one upset with his rating. Joining Wall in expressing outrage towards Ronnie 2K was Mia Khalifa, who came back at Ronnie on Twitter on Tuesday, four days after backing up Wall's original tweet storm, with a challenge to earn Wall's rating a three point boost to a 93.

Ronnie, a man of honor, refused and remained steadfast in his stance that nothing could sway him to change Wall's rating before the release despite Khalifa's best efforts.

The ratings are indeed sacred and no outside forces, pressures, or bribes can make the 2K team change a rating on a whim. That honor has to be earned on the court. For Wall to get that 93, he's going to have to ball out this season, but no matter what happens, they can't take away the most important number, $207 million, which is the amount attached to his brand new contract extension.