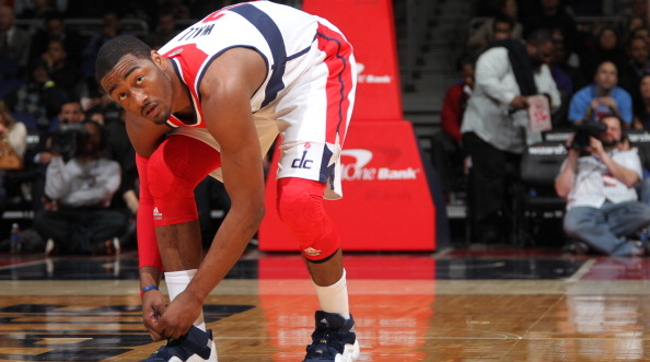 John Wall and the Wizards have already had one of those seasons that you just want to forget. Every step Washington has taken has been a struggle with internal conflict and trade rumors constantly swirling around the team. Wall himself has been a contributing factor in all of this due to poor play.
On Saturday, Wall had one of his worst outings of the season. Despite being apparently under the weather, Wall attempted to play against the Cavaliers. It didn't go well for him or the Wizards. Wall was horrendous and only scored a single point, going 0-for-5 from the field and picking up his lone point from the free throw stripe. The Wizards unsurprisingly lost 116-101.
The bigger story, though, is Wall. He didn't practice on the Sunday following his poor performance and according to Wizards coach Scott Brooks it's due to Wall dealing with bone spurs, and his status for the next Wizards game is unknown.

This came a little bit out of nowhere, but bone spurs are one of those injuries that players can technically play through. They're extremely painful and can have a massive impact on someone's ability to play. Wall has been uncharacteristically slow this season. Even in some of the Wizards worst seasons, Wall was known for being speedy and quick. This season, in terms of player movement, he's been one of the slowest in the league, and bone spurs could be an explanation for his slower play.
Wall could also of course just be unhappy in Washington. He's been involved in the same trade rumors as those around him with teams like the Knicks reportedly considering offers for him. Wall is in definite need of a change of scenery, but bone spurs aren't going to help that situation. It's an injury that will continue to bother him throughout the season.