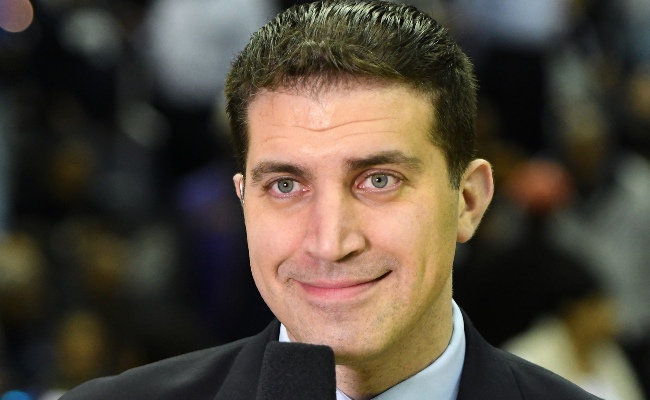 The craziness that is the NCAA Tournament begins this week. College basketball fans are getting their brackets prepared, working out plans to come down with a "sudden head cold" on Thursday and Friday for the tournament's opening rounds, and getting ready to participate in the most fun sports weekend of the year.
For college hoops fans, everything can be summed up with three words: This is March.
The phrase has taken on a life of its own over the last few years thanks to Jon Rothstein, a college basketball reporter for CBS Sports (he'll provide analysis on CBS Sports Network throughout the Tournament), Sports Illustrated, and WFAN. The numerous quips he has for every seemingly every college hoops team — from longtime slogans like Virginia basketball being "a thing of beauty" to more recent ones like "Buffalo Basketball. Seek and Destroy." — are known as Rothsteinisms, and are fixtures on the corner of the internet occupied by fans of the sport. Still, none of them are quite as popular as This is March, a celebration of everything that makes this month so mad.
We spoke to Rothstein on Tuesday morning about the genesis of these sayings, spent some time previewing the regions for this year's Tournament, and got a breakdown of some of his favorite spots to eat in New York City.

Dime: Let's dive right in. I want to get the most interesting thing that you think exists in each region, and we have to start in the East. I have to imagine that this involves Zion Williamson and Duke.
Jon Rothstein: Well I don't think we've ever had a player in college basketball captivate an audience like Zion Williamson has. There's been great Duke teams in years past, but we haven't had in college basketball, a player who was synonymous with his first name, like LeBron is, like Kobe is. That's something that you just don't normally see in college basketball. Beyond Duke, there's a lot of other interesting story lines in the East.
One of things that I think is not getting enough attention is we spent so much time in the last month talking about how Duke would fair without Zion Williamson, LSU is moving forward without its head coach, Will Wade. Will Wade was a guy, obviously there's a lot of smoke around that program right now, but he coached LSU to the SEC regular season title in the year that it was a darn good league. Without their head coach, and in the two games they played without their head coach, they've beaten a Vanderbilt team that hadn't won a game in the SEC this year, and they also lost to a Florida team where they came unraveled down the stretch. I think that 3-14 matchup against Yale is one of the more intriguing games in that region in the first round.
Moving over to the South, it looks like we could be on a collision course for one hell of a game between Virginia and Tennessee. What catches your eye there?
I thought that Cincinnati deserved much better than a seventh seed, but the flip side is, Cincinnati gets to play in Columbus, just about two hours from their campus. That is something that bodes well for Mick Cronin in Cincinnati. They've had to play their first round NCAA Tournament games in Spokane, Washington and northern California in the last couple years. That's an advantage for them, but obviously, they're going to have to deal with a really good Iowa team, then potentially Tennessee. I thought that was the biggest thing that stood out in that region. I also think Oregon as a 12 is obviously vastly under seeded. Defensively, they've been so good. That's a team you could see winning multiple games in the NCAA Tournament.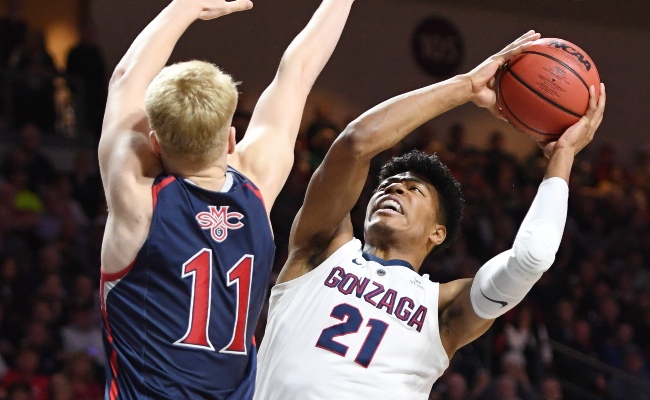 Heading down to the West, it seems to me like even beyond Gonzaga, this has the potential to be a region where a mid-major team has the potential to make a whole lot of noise.
Well there's definitely a lot of mid-major teams that are capable in that region. Another thing you have to keep an eye on is a lot of these teams were in the West region last year. Think about it, Florida State and Gonzaga are the one and the four seeds, they played in the Sweet 16 last year. Then if Florida State were to advance to the Elite Eight, Michigan could be waiting on the other side. The two teams obviously played in that game last year. There's a lot of interesting things in that region. I call it the Region of Sizzle, I've named all the regions. That's the Region of Sizzle. The East region is the Region of Prospects.
The dynamic, too, I think that we need to look at is, if Arizona State wins tonight, it would be Bobby Hurley against his former assistant Nate Oats in the round of 64. The Region of Sizzle certainly living up to the billing.
Then finally over in the Midwest, I think it's very easy to look and see that potential Kentucky/North Carolina rematch would be juicy at this point, but what else looks good there?
To me, this is the Region of Pace. It's great teams that play with great pace. I think that's something that people obviously like watching, unless you're going against it. I think if you get the potential Auburn-North Carolina game in the Sweet 16, that would be the type of game where the first to 140 wins. We want the more entertaining games in the NCAA Tournament. I'd be shocked if North Carolina and Kentucky don't wind up hooking up in the regional final, which would be an all-time Elite Eight game. I would be really surprised if that didn't happen.
I got to get picks for each region, and then who you think's playing for a title, and who's going to be cutting down the net?
Out of the Region of Prospects, I have Duke, out of Region of Sizzle, I have Michigan. Then on the other side, in the Region of Grinds because of all the difficult defensive matchups there are in that region, I'm going to go with Virginia. Out of the Region of Pace, I got North Carolina. Then in phase four, the fourth meeting between the blue bloods, I've got North Carolina/Duke in the national title game.

You got Duke or you got UNC?
I've got UNC.
We have the same final, but we have different teams winning it. I very much hope that happens, because I think that would … I don't know if we would see a game with that much hype since the Magic and Bird days.
Yeah, it could be one of the great NCAA Tournament title games in our life time.
Now that I got you, I have to get into some of the Jon Rothsteinisms that have made you so famous on social media. How do they form? Are you sitting there watching a game and you go, "I think that would be a fun thing to tie to a team"?
It comes from observation over the years. I think whether it's watching practices or keeping track of teams and programs, certain things just happen to align with certain programs. I just remember maybe five, six years ago, Villanova was coming off a season where they had a really great year. I think they won 29 games. They lost their really good player in James Bell. The next year, there was no drop off in the product of their program despite losing really good players. I remember I said to myself, "This seems like a Fortune 500 company." I was like, "Wait a minute, that could stick."
Then, I remember watching a West Virginia practice in Morgantown a couple years ago. The practice reminded me of that opening scene in Gladiator with Russell Crowe, when they had that assault in the forest, and so on and so forth. I was like, "West Virginia basketball is tougher than a long weekend at your in-laws." I was like, "Wait a minute." It's just obviously, an effort to keep authenticity, it's an effort to keep authenticity.
I think the one thing you learn when you're involved in media is you have to eventually, at some point in time, separate yourself from everybody else in the way you conduct yourself, but also the way you approach the way you're covering the sport. I think kids get into the business, and they say, "Well I want to be the next such and such," you need to be the first you. There's only one of you. There's only one of anybody.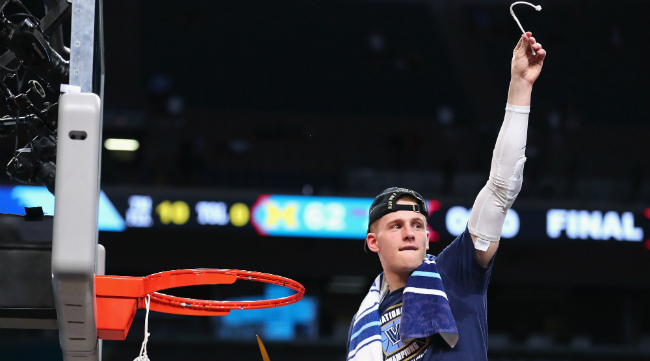 I think I know the answer to this, but is there one that you enjoy and revere above all of them?
This is March.
I figured.
That's the answer. If I can quote Kevin Pollock in A Few Good Men, one of my top five favorite movies, "Seven days a week, and twice on Sunday."
What do you think about the life that's taken on? That's become part of the college basketball lexicon over the past couple years.
I literally just remember watching an NCAA Tournament game that was coming down to the wire, and I tweeted it. I just said, "This is March." Then it was like a light bulb went off, imaginarily, just in front of my head and my face. I said, "Wait a minute, that could be something." I just tweeted it a couple of times. It got a lot of traction. Just seeing it grow a little bit more and more a year.
Is there one that you particularly enjoy that you thought might have had a little bit of staying power, then after a couple of weeks, you're like, "You know what, maybe not."
No. I think the thing that's been kind of funny and kind of weird is I have people from programs that don't have a tagline after they win email or text and say, "When can we get something when we win?" so on and so forth. I'm not going to be the type of person who just throws something out there just to throw something out there. It has to have a little weight to it.

That makes sense. My last question, we're going in a bit of a different direction. You live in New York, and I think everyone who follows you sees that you will go out and you'll go to these really great restaurants and get some pretty crazy meals. I have one of them right here, margherita pizza, calamari, bone-in filet, chicken parm, and a 20 layer cake at LAVO. What's the secret for aspiring foodies to getting one of these big meals and being able to enjoy it and not feel sick after?
Honestly, you got to exercise, you got to work out. Your portion control when you're not eating. You have to obviously have a deep, deep appetite, which I have. I think one of the best parts of living in New York is different restaurants you can go to. Other than college basketball, it's definitely my secondary passion.
Someone comes up to you and says, "Jon, I want to get a meal with New York, and I can only go to one place," where do you send them or what are you telling them to get?
That's like choosing between children. I can give you different choices for different, obviously, types of food, if that's what you want.
Sure.
Italian, I would go … I'll give you three, Elios, Campagnola, or Primola. Asian, I'll say Philippe Chow.
Then the best slice in the city. Where are you sending them?
Best slice in the city? I'm going to say Delizia on 73rd and 1st.
Interesting. Next time I'm in the city, I'll be sure to check that out.
If you want to throw a Greek place on there, you can go Avra, A-V-R-A. For a steak place, I'd go STK in the Meatpacking District. Then for seafood, I'd say Catch.