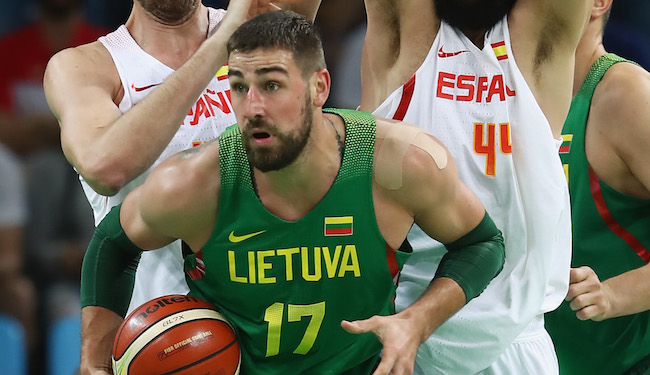 If you somehow haven't heard by now, the youngest Ball brothers are both headed to Lithuania in January to begin their professional basketball careers. They may or may not be getting paid to play and will most likely see playing time in a lower league rather than the upper Lithuanian league, but LaVar has indeed followed through on his promise to send both of his sons overseas to play together.
There are plenty of questions about their ability to fit in with the European style of ball, which has traditionally not been kind to volume shooting and the general style of play LaMelo and LiAngelo exhibited in high school. That said, they are going to a basketball-crazed country and will get the chance to see a different kind of play than they would in high school, college, or AAU, and can develop against adults.
We know a little bit about the Vytautas club they're joining, but their exact fit won't be known until they get there next month and start working with their new team. To get a feel for what basketball in Lithuania is like, reporters turned to Raptors center Jonas Valanciunas, who stars on the Lithuanian national team, for his thoughts on the Balls headed to his home country and what they are in for. Where others have some trepidation about the move, Valanciunas thinks it will be great for LaMelo and LiAngelo (transcription via CBS Sports).

"They're getting themselves into a great opportunity," Valanciunas said. "Lithuania is beautiful country. I hope they're going to like it. … It's a high level of basketball, so we'll see how they're gonna do it.

"The sky's the limit. They go out there, they show they can play — basketball is everywhere. Every country's playing basketball, Lithuania included. We have great basketball history. We're such a small country, but we have many, many great players. Our basketball school is good, so they chose a really good school.

"They just gotta work hard — it's all about working. You can be as good as you can be by working. Talent is one thing, but work you put in, that's gonna show up.

"If they have any problems, let me know. I can help them out."
Valanciunas obviously has a lot of pride in his home nation and thinks the Ball family will, if nothing else, enjoy their stay in Lithuania. As for the basketball, he thinks they'll be able to learn a lot and play against a very talented pool of players, provided they put in the work.
It's about what you'd expect to hear from a Lithuanian native. Also, based on the last time the Balls were overseas, that last line very well could come into play.