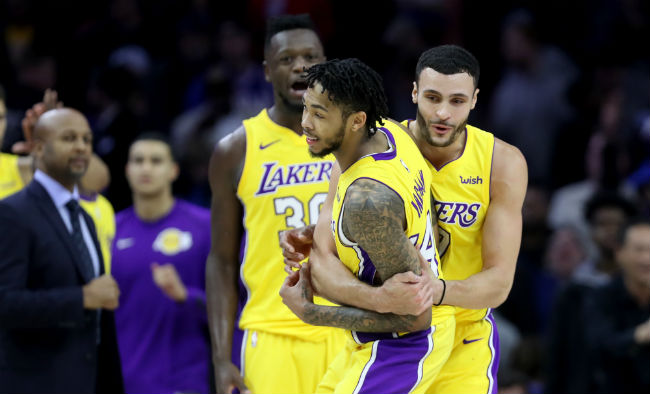 It was a big night for the Los Angeles Lakers in Philadelphia on Thursday. LA ended a 5-game losing streak on the strength of a Brandon Ingram 3-pointer with less than a second to go. More importantly, LaVar Ball finally got to meet Joel Embiid, who was his nemesis about six or seven beefs ago.
All kidding aside, Ingram's trey was huge for a Lakers team that led the Sixers for much of the night, only to see its lead slip away late and fall to a 104-all deadlock. But the team was composed, defending Philly's last shot well and running the floor to set up the game-winner on a pass from Lonzo Ball.
And according to Jordan Clarkson, it's a damn good thing Ingram shot when he did. The Lakers sixth man had some hilarious things to say about Ingram's game-winner in a jovial LA locker room late Thursday night, including that he would have "slapped them worms" off of Ingram's hair if he passed up the chance to take the winning shot.

You can talk like this and get away with it as long as the shot fell, which thankfully for Ingram it did. As weird as it might sound, this is all good news for the Lakers. That Ball confidently set up Ingram's shot, that he took it, and that the team is close enough to to joke about a big win like this after the fact.
Though maybe Clarkson isn't actually a fan of Ingram's hairstyle? Maybe that warranted a follow-up question we'll now never get.