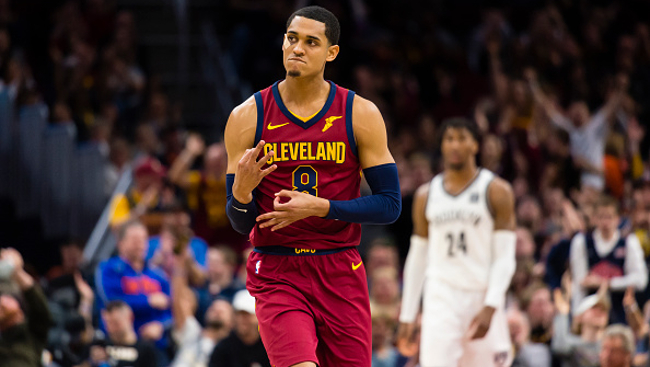 What if I told you that a certain Cavaliers guard had a theory about the world and that it went against fundamental scientific principles that the majority of rational, thinking humans have long accepted as fact? Now what if I told that it was someone other than Kyrie Irving?
That's right, trade deadline acquisition Jordan Clarkson has apparently been thinking a lot about the dinosaurs, and he's formulated a "big" idea about human history that you have to hear to believe.
Clarkson, and teammate Larry Nance Jr., recently joined the Road Trippin' podcast with Allie Clifton and Randy Mims (aka DJ Montage), where he laid out his belief that humans and dinosaurs once coexisted on Earth, only in a dynamic similar to how we live today alongside our domesticated pets.
The question was initially raised about whether dinosaurs are real, which Mims questions, and Clarkson follows it up with his theory that is maybe more ridiculous than dinosaurs never existing at all, via Uninterrupted:
"This is gonna get a little crazy. I'm gonna take y'all a little left on this," Clarkson said. "Y'all know how we got dogs and stuff, so I think it was bigger people on the world before us, and the dinosaurs was they pets…You look at a dinosaur. They gotta be three times bigger than them."
As we've learned, the Road Trippin' podcast is a safe place to explore and discuss ideas that – to put it generously – boldly fly in the face of conventional wisdom.
But we have to give Clarkson his due here. His theory about a gigantic Flintstonian race of humanoids at least acknowledges the existence of said dinosaurs, unlike J.J. Redick, who, like Mims, is famously unsure whether they existed at all in the first place.

Clarkson wasn't done delivering some hot takes when he finished his dinosaur thought, as he later revealed he was a moon landing truther, insisting it was shot in a Hollywood studio.
"I don't believe when they went to the moon," Clarkson said. "I think that was in a studio in Hollywood. They recorded that. Straight up. I'm just being dead honest. … First, breh, the flag was moving. It's like it was like waving. So, what they gon' make the wind? They just needed something to believe in back then."
Whereas in the past – depending on who you believe – it's been things like ice ages and giant meteorites that have destroyed the Earth, it's becoming clear that the rising levels of wokeness will ultimately be this generation's demise.
(Uninterrupted; h/t SLAM)