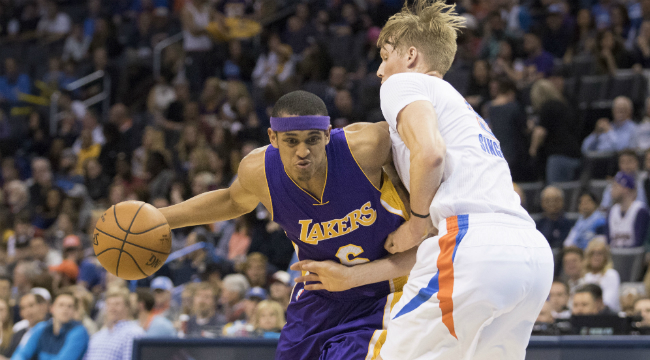 Free agency negotiations are finally, officially underway, and the Lakers have retained their most important free agent, according to a report from the Vertical's Shams Charania. Jordan Clarkson will apparently be returning to Los Angeles on a reasonable (for this year, anyway) 4-year, $50 million contract.
Clarkson would have likely made far more on the open market, but he hit restricted free agency after only two years in the league, limiting what other teams could offer to potentially draw him away or drive up the price. That artificial cap on Clarkson's value is why he'll be making nearly $15 million less than the Lakers' other free agent acquisition, Timofey Mozgov. The size of that deal dropped jaws around the league, making Clarkson's contract look like a downright bargain in comparison.
Without Kobe Bryant, Clarkson's usage numbers figure to skyrocket next season, as he'll pair with Brandon Ingram as off-ball shooters to complement D'Angelo Russell. A Julius Randle-Timofey Mozgov frontcourt likely won't scare anybody, but at least L.A. will be young and fun on the perimeter. That being said, the Lakers might not be done making moves quite yet.
(Via The Vertical)