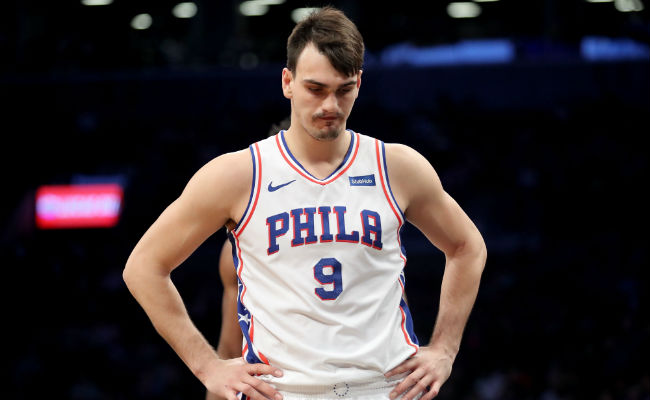 Jordan Clarkson wasn't in a good mood on Thursday night. Though LeBron James made what is easily the best play that we saw this evening, the Cleveland Cavaliers struggled at home to fend off the young Philadelphia 76ers and were in a position to lose in the final seconds of the game.
Then Clarkson made things awkward for everyone after a Dario Saric uncontested dunk in the dying moments of the game rubbed the loss in. He threw down with 12.2 seconds left to make it 107-97, and Clarkson decided to take out some frustrations by grabbing the ball and throwing it into Saric's back.
The throw was likely partially a response to an earlier moment with the Sixers' second-year standout, as Saric stood and stared at the Cavaliers bench after a made three earlier in the quarter. Regardless of the reason, Joel Embiid and James both got involved in breaking up what was a tense moment, and nothing serious came of the incident, save for Clarkson getting tossed.
It was a frustrating night for the newly-acquired Clarkson, who came to Cleveland from the Los Angeles Lakers in the trade that sent Isaiah Thomas out west. Clarkson had 10 points on the night on 3-for-7 shooting.
Clarkson and Saric's incident was the capper in a frustrating final few minutes for the Cavaliers, as the Sixers made the most of their chance to show some swagger against the three-time defending Eastern Conference champions. In addition to the moments involving Saric, Ben Simmons inbounded a ball of Rodney Hood's back and dunked with less than 30 seconds remaining.
A night like this would certainly set up a fun postseason series, should the two teams find their way to it. At the very least, it made a Thursday night in early March pretty interesting.