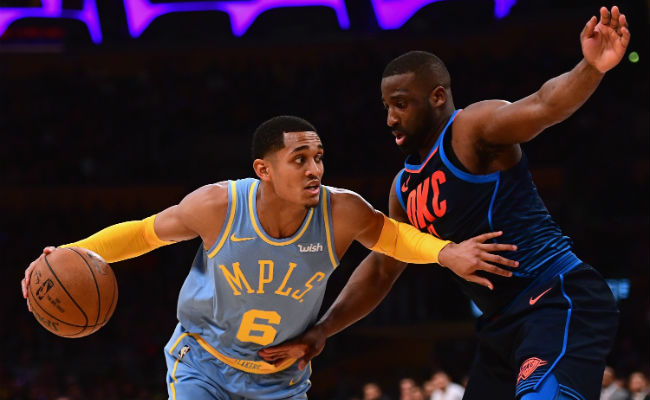 Things are a lot different for Jordan Clarkson now than they were just a few days ago. On Thursday, he was traded to the Cleveland Cavaliers as part of a big roster shakeup that saw Isaiah Thomas head to the Lakers.
For Clarkson, it means he gets to play with LeBron James. He probably needs to buy a new winter jacket, too, but life on Lake Erie isn't all bad. Not only does he have a chance to better accessorize his winter wear, but he doesn't have to deal with LaVar Ball anymore, either.
It may sound flippant, but Clarkson seems to be enjoying his Ball-less life thus far. He spoke to the media on Saturday and was asked about Ball, and did seem pretty excited to not have to deal with the Big Baller Brand patriarch anymore.

To be fair he didn't give a real answer to the question, but the laugh says it all. It seems that the presence of LaVar Ball wasn't always fun and games in L.A., even if the Lakers franchise is doing its best to minimize the appearance of his sphere of influence.
We'll see if LaVar will shoot back at Clarkson over a laugh, but he's got other things going on right now. He's really getting into bottled water these days.