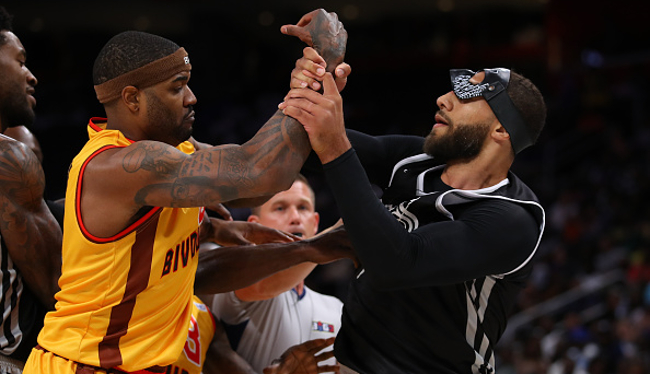 The BIG3, Ice Cube's 3-on-3 basketball tournament, kicked off its third season this weekend in Detroit at Little Caesers Arena with yet another massive influx of former NBA players filling out its expanded field of 12 teams. And things got off to a rocky start almost immediately after tip-off.
The triple-header featured a matchup between Enemies (apropos) and Bivouac, and a heated exchange between former NBA journeyman Josh Smith and No. 1 overall BIG3 pick Royce White quickly turned ugly.
Angered by a foul call, Smith had initially directed his ire at the referees but soon got into it with White, the result of which was a brief scuffle that earned both of them ejections.
Things are getting heated on CBS Sports Network ??? pic.twitter.com/ZzM6RXqcCM

— BIG3 on CBS (@thebig3) June 23, 2019
Bivouac would go on to win that game, 50-43. Both Smith and White are newcomers to the BIG3 this season, and Smith was apparently pelted with jeers all night as the former Pistons forward was a pricey disappointment during his tenture in Detroit during his NBA days.
White, you may recall, never quite got his NBA career off the ground, as he battled mental health issues and was outspoken against the league for what he argued was a lack of accessibility for players dealing with similar challenges.
The BIG3 will head to Charlotte next weekend for the second stop of their nine-week tour.