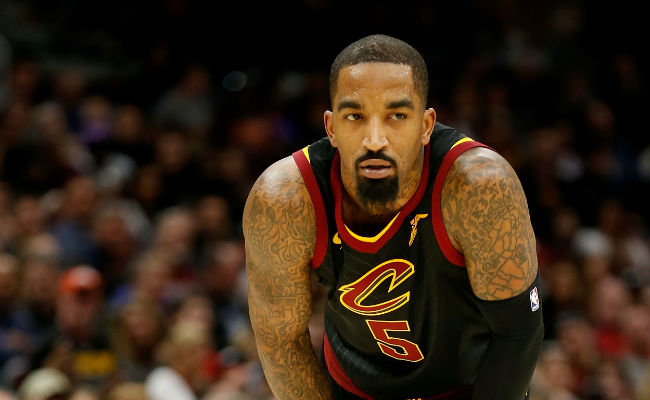 J.R. Smith will miss Thursday night's Cleveland Cavaliers game against Joel Embiid and the Philadelphia 76ers after an incident just hours before the contest.
The Cavaliers announced on Thursday afternoon that Smith will serve a one-game suspension after "detrimental conduct" following a team shootaround before they hosted the Sixers.
Little information about the incident itself was revealed on Thursday night, but according to head coach Tyronn Lue, something happened after practice and the team decided Rodney Hood will start while Smith spends the game in street clothes.
It's been a strange season for Cleveland in a number of ways, with players like Derrick Rose taking an extended absence from the club and interpersonal conflicts — like Kevin Love criticized for leaving a blowout with migraines — plaguing the middle portions of the season. But none of those incidents ever led back to Smith, who took his changing role with the team in stride. He was also one of the few notable players to not get traded off the team at the deadline.
While there's no word about what happened yet, it seems logical that we'll find out exactly what happened soon enough. When it comes to the Cavaliers, the story — at least some version of it — always seems to come out.
Update: According to ESPN's Dave McMenamin, the suspension is not the result of an off-court incident.
Cavaliers coach Tyronn Lue said "something happened after shootaround" Thursday that led to Smith's one-game suspension.

A team source told ESPN's Dave McMenamin the suspension is from a team-related issue, nothing off the court. Smith was at shootaround Thursday.