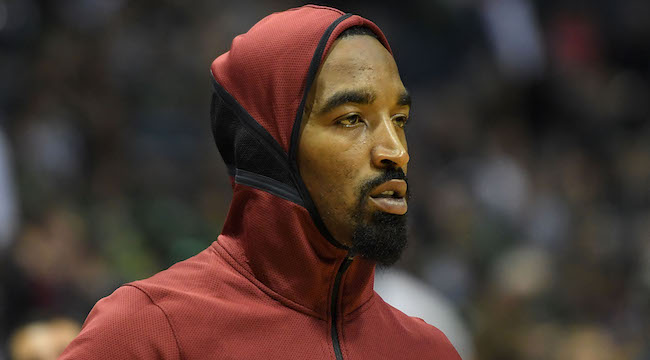 Christmas is coming and, as usual, the team led by LeBron James will be prominently involved during the NBA's showcase day on Dec. 25. While nearly everything including James qualifies as big-time news, it is a teammate of his with the Cleveland Cavaliers taking his holiday fashion game to a new level this week: the always entertaining J.R. Smith.
On Monday evening, TMZ Sports reported that Smith will debut an "ugly sweater" hoodie for Thursday's contest against the Los Angeles Lakers live on TNT in front of a national audience. Best of all, the garments will prominently feature the phrase "Merry Swishmas" to up the showmanship to yet another degree.
The sweater hoodies will be available for sale on Fresh Brewed Tees and it is hard to ignore the potential parallels to what transpired between J.R. and ESPN's Stephen A. Smith earlier this year. As a refresher, the television personality went after J.R. for wearing a hoodie on the Cavs' bench and, following those statements, Cleveland's starting guard clapped back in memorable fashion.
Of course, it has to be noted that "Merry Swishmas"-themed sweater hoodies would be a hit regardless of additional context, and this appears to be a rather brilliant marketing idea. We'll be seeing a lot of J.R. Smith, LeBron James and the Cavs over the next two weeks and, starting on Thursday, the most prominent model for this new fashion venture will rock the apparel for all to see.