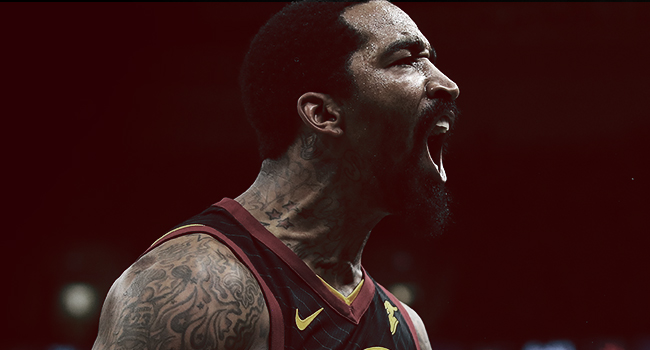 CLEVELAND — With 1.7 seconds remaining in the first quarter of Game 5 between the Cavaliers and Pacers, Cleveland's JR Smith fouled Indiana shooting guard Victor Oladipo. The foul was senseless and maddening in that Smith was beaten off a screen and was roughly six feet away from his man, but still stuck out his arm and committed the infraction. Rather than pressing his luck and letting the clock expire, Smith sent Oladipo to the line for two free throws.
It was the second-most JR Smith thing he would do in the quarter's final two seconds.
The most JR Smith thing JR Smith did was when he received the ensuing in-bound pass, dribbled once crosscourt, and casually unfurled a 60-foot shot at the buzzer that could not have possibly touched less of the rim while splashing through the net. Smith mean-mugged his way back to the Cavaliers' bench and doled out high-fives as if the foul was a well-executed ploy in giving Cleveland an extra point before the end of the quarter. In a league full of characters and personalities, it was Smith who somehow traversed between being a mess and a masterpiece in less time than it takes to say his full name.
What LeBron James did in the seven-game series was nothing short of heroic, carrying an underperforming concoction of role players to the next round. And while Kyle Korver certainly had his impact on the offensive end, spacing the floor with his three-point prowess and delivering the series-winning pass to James in Game 7, it was Smith who — just weeks removed from being suspended for throwing a bowl of soup at Damon Jones — was the team's second most consistent weapon throughout.
Cleveland won Game 5 by four points, so Smith's fouled-turned-buzzer-beating three ball wasn't exactly a game-maker as much as it was a complete encapsulation of what the veteran swingman has become for the Cavaliers. That night, he had an inefficient 12 points on 12 shots (sinking only three-pointers) to go with six rebounds, allowing James to need only 32 points in the win. It was what Smith did on the defensive end, however, that would be his value add, being the main driver on a defensive effort that held Oladipo to 5-of-20 shooting.
In Game 1 of the series, Cavs head coach Ty Lue opted to bring Smith off the bench, starting Rodney Hood next to George Hill in the team's backcourt. Oladipo scored 32 points on 19 shots, and Indiana stormed out to a series lead, boat racing the Cavs in the first and fourth quarters. Lue quickly changed lineups for Game 2, inserting Smith into the starting five. While Smith had just five points on the night, it was two points that came from a full-court press of Oladipo late in the fourth quarter that would earn the praise of his coach and teammates.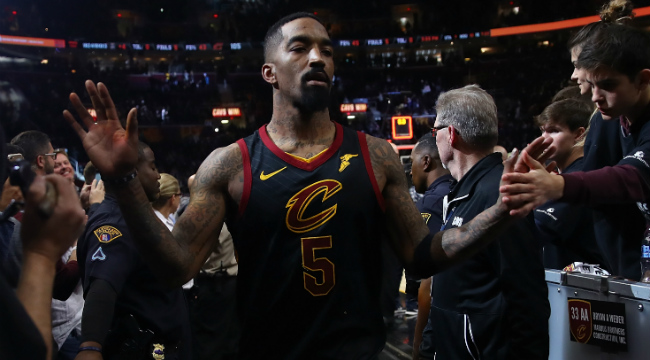 "JR's defensive aggression is really good for us," Lue said following the win. "Showing the fight, showing the toughness that we need, bringing the physicality. He's not scared to hit people. You have to hit people in this league. It's a contact sport, and guys have to understand and realize that."
To understand the magnitude of this revelation is to be aware not just of Smith's reputation in the league not just from a historical context, but one where he struggled to achieve any sort of consistent role throughout the entire 2017-18 season. He was moved to a reserve when the Cavaliers signed Dwyane Wade only to be moved into the starting unit after a substandard few weeks to start the season. Rookie Cedi Osman emerged as a player who earned Lue's trust in the team's backcourt. Then at the trade deadline, the Cavs sent Wade to Miami, but brought back two other shooting guards in Jordan Clarkson and Rodney Hood.
Both Clarkson and Hood can create shots and spent many nights filling up the scoring column with their former teams. That it's Smith who Lue says he trusts in the highest of pressure situations, however, speaks volumes about the Cavaliers' current roster and the lengths the coaching staff is willing to go to find something, anything, that works.
Cleveland needed physicality. They needed someone who was willing to do the dirty work while potentially not getting much in the way of shots. And they needed someone who had the experience on the postseason stage, knowing what it takes to body up with some of the league's most dynamic swingmen.
In Smith, Lue found himself with an unlikely X Factor. In the first-round games the Cavaliers won after that Game 1 drubbing, Oladipo was held to a collective 26-of-69 (37.6 percent) from the floor. There were moments when things got away from both him and the Cavs, however, like in Game 6 where the first-time All-Star dropped a cool 28 points (on 11-of-19 shooting) to go with 13 rebounds and 10 assists, but the contrast between the Game 1 lineup and what Smith was able to bring to the table was stark.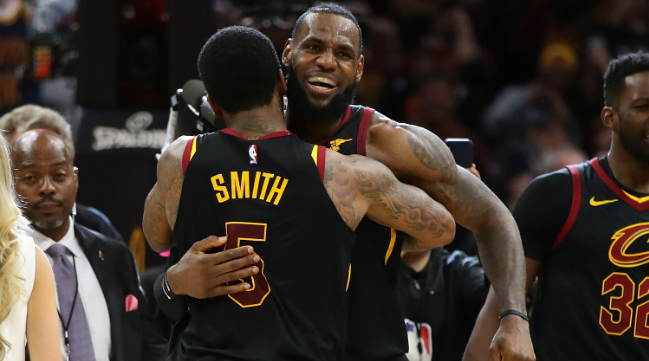 One player who was a part of the Cavaliers when Smith embraced his role as a wing defender upon being traded to Cleveland in January of 2015 was legendary NBA enforcer Kendrick Perkins. Perk made his name in Boston, being the last line of defense for a championship-winning organization, and was brought to Cleveland that season to bring that same mentality. Signed on the last day of the regular season this past April, Perkins' role has been more clandestine, but he may very well be the president of Smith's fan club following what he's been able—and willing—to do despite his up-and-down campaign.
"You don't find too many physical guards who are as athletic as JR," Perkins told DIME. "Just watching him, since we put him on Vic, he's been doing a great job, bodying up and being physical, but at the same time, playing smart—doing it within the game, no dumb stuff. Just watching him from the time he got traded here from the Knicks, he's graduated to another level. Just his mindset, he embraces the challenge. I like that in him. At the end of the day, it's about having guys willing to get down and dirty, go get it and get grimy when you need to, and that's what he's been doing, playing his heart out on both ends."
In Game 1 against the Toronto Raptors, the Cavaliers were able to steal a game in which they had not led throughout all of regulation. While James led the team in scoring and produced a triple-double, Smith dropped 20 points on 6-of-11 shooting, draining five of his six three-point attempts. Equally as important was his work on the defensive end late in the game when the Raptors went ice cold, missing 15 of 16 field goal attempts during one stretch of the game.
To start overtime, a Smith steal led to a Korver three-pointer. Two possessions later, Smith added a three-pointer of his own. While not exactly the highlight reel energy of a 60-footer before the buzzer, the Cavs would require every ounce of the shooting guard's work to leave the Air Canada Center with a win.
Against Indiana, the series was the product of five separate 40-point nights from James. If the Cavaliers are going to win the second-round series in spite of Las Vegas having them as substantial underdogs heading in, it will be because of what Smith can do against DeMar DeRozan on the defensive end, allowing Cleveland to have a bit of a safety net offensively.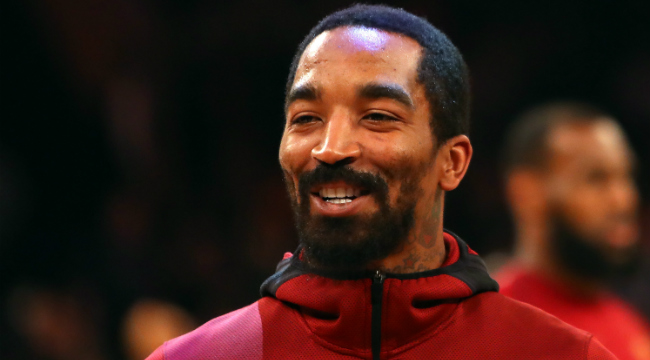 This role should be old hat for JR. No only did he guard Oladipo in Round 1, he was tasked with guarding DeRozan last season when the Cavaliers swept the Raps. When Jimmy Butler was on the Bulls, it was Smith who drew the assignment. If the Wizards would have topped Toronto in the first round, it would have been JR guarding All-Star guard Bradley Beal. If the Cavs can make it to the next round, it will be Smith drawing the toughest of the assignments once again, be it in Philadelphia's Ben Simmons or Boston's Jayson Tatum. The Cavaliers have a host of players who can fill in as that mid-teens scoring guy — Korver, Jeff Green, and Jordan Clarkson all have the potential — but none of them can be asked to guard some of the game's best scorers over the course of an entire contest.
It wasn't all that long ago where Smith, who has "Just Klownin'" tattooed in a large font across his shoulder blades, said "when in doubt, shoot" during his introduction to the city of Cleveland. An unlikely hero a few years later, Smith now has the ability to go from a guy who tossed his hot, liquid lunch at an assistant coach to one who can make yet another name for himself with his work on the defensive end.
"To be honest with you, the playoffs changed from the regular season," Perkins told DIME of Smith. "It's been old school. Guys getting chippy, refs letting you play, a lot of confrontation—you've got to love it. Really, you probably couldn't say it in the regular season, but when it comes to the postseason, he's really up there as one of the best two-way guards."
It wasn't all that long ago where JR Smith was borderline unplayable for Ty Lue and the Cavaliers. Of all the JR Smith things to have occurred in recent weeks, going from his worst regular season in recent years to becoming one of the most reliable players on a team on the quest for its fourth straight NBA Finals bid may be the most JR Smith of them all.