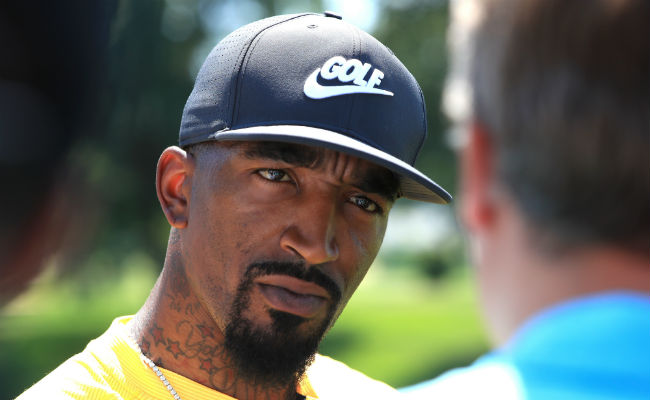 JR Smith isn't happy with LeSean McCoy, or any athlete who needs to speak negatively of another athlete in the media. The Cleveland Cavaliers guard fired off some frustrated tweets on Friday morning, calling out said athletes that spoke ill of Colin Kaepernick and warning the media not to ask him about other athletes unless they directly relate to his team.
The screed appears to be a reaction to Buffalo Bills running back LeSean McCoy, who spoke with reporters in Buffalo on Thursday about Kaepernick. McCoy was critical of Kaepernick's decision to silently protest police brutality against people of color and noted Kaepernick's talent and play wasn't worth the distraction he brings, which is why he's not currently on an NFL roster.
Smith doesn't call out McCoy by name, but later made it clear that he's talking about Kaepernick when he retweeted an ESPN article about people protesting in favor of Kaepernick getting signed by an NFL team. That made it clear that Smith's screed was directed towards the Bills running back who was critical of Kaepernick in an interview with reporters on Thursday.
Smith started on Friday morning by saying he's never understood "speaking down on another person/athlete to the media."
Smith said that not all athletes see "eye to eye" but that they should support one another because they're "in the same boat."
The focus of his ire narrows a bit here when he points out that less talented players often have jobs over those with more talent.
Smith also spoke more at length on the issue on a video for Uninterrupted.
The comment about talent also makes it pretty clear that he's responding to Shady's comments about Kaepernick. Here's what McCoy told the Buffalo News about the unemployed quarterback's situation:
"It's a lot more than just he's not on the team because he doesn't want to stand for the national anthem," McCoy said. "That may have something to do with it, but I think also it has a lot to do with his play. I'm sure a lot of teams wouldn't want him as their starting quarterback. That chaos that comes along with it, it's a lot. As a team, trying to win and not have a distraction on the team, I just take that as a player – there's certain players that could be on the team with big distractions, and there's other players that it's not good enough or not worth it. I think his situation is not good enough to have him on the team with all the attention that comes along with it."
McCoy is basically saying that Colin Kaepernick is not good enough to be worth signing given his potential for distraction. But it's important to note that Kaepernick's first start since his silent protest began was against the Bills in Buffalo last October. McCoy invited a number of Buffalo police officers to that game as his guests.
At the time it was believed to be in response to an incident McCoy had with off-duty Philadelphia police officers during the previous offseason. McCoy avoided charges from the incident but was sued by two officers. McCoy said that inviting officers to Kaepernick's first start for the 49ers was a coincidence.
On Thursday, McCoy said that quarterback Michael Vick, who went to federal prison in connection with a dogfighting ring, is "10 times better" than Kaepernick, which is why he found his way back in the league when he was released from prison. Kaepernick, who has not committed a crime of any kind, has been unable to find a job while many retread quarterbacks like Matt McGloin and Chad Henne are fighting for starting quarterback jobs. Jay Cutler was even pulled out of retirement by the Miami Dolphins and will start under center this fall.

There are different kind of athletes and those differences come out in how they interact with the media. Some give the most generic answers possible and try to escape press conferences without incident. Others are different, operating on different guidelines. Smith, for example, doesn't begrudge a member of the media asking questions about another athlete.
In Smith's view, however, it's the athlete's job not to talk negatively about someone with that platform.
Smith later warned the media not to ask him about another player he's not dealing with on a regular basis, stating that he'll decline to answer those kinds of questions.
But McCoy's stance with the media seems to be different. He's an intelligent guy who wants to give reporters answers to the questions they ask. I've seen McCoy walk a reporter though the entirety of a long rushing touchdown just by re-watching the sequence in his own head. He wants to fill up notebooks and is willing to speak about things he has opinions on, but in this instance, his opinion has turned some against him.
It's clear that LeSean McCoy's opinion of Colin Kaepernick isn't very high. And now, because he's willing to give that opinion to reporters, JR Smith isn't all that much of a LeSean McCoy fan.