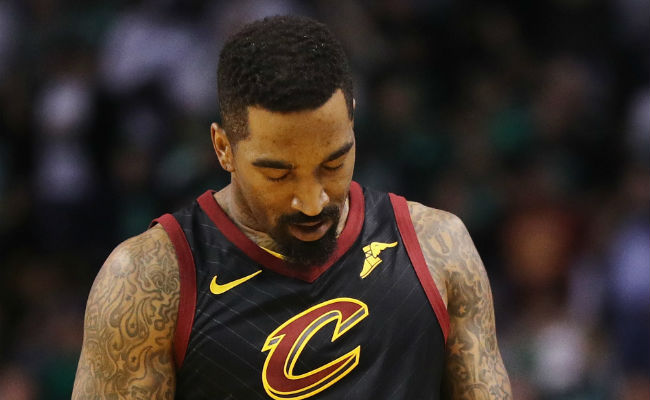 J.R. Smith said on Saturday that he's the only player on the Cleveland Cavaliers that can handle the backlash from his brain fart to end Game 1 of the NBA Finals. He might be right, because the Oracle Arena crowd let him have it in Game 2.
Smith famously dribbled out the clock to end regulation in Game 1 on a rebound inside, seemingly forgetting that the score was tied. It was a pretty traumatic moment for Cavaliers fans — and definitely for LeBron James — but everyone was ready to move on in Game 2. Except Warriors fans, who made sure Smith knew they hadn't forgotten his mental error, and that they were appreciative of the play.
Smith got a standing ovation when he was introduced in the Cavaliers starting lineup on Sunday night, and Warriors fans continued to let him hear it during the game itself.
Yes, that's an 'MVP' chant from the away crowd in the NBA Finals. No matter how placid and cool J.R. Smith is, and he's a pretty cool customer in general, that's got to rattle you a bit after the week you just had.
Smith is something of an enigma and is sure to battle through the crowd getting on him. He's had a weird season already and has managed to push through it all. I'm sure he will be ready for whatever Cavaliers fans have for him at home for Game 3.