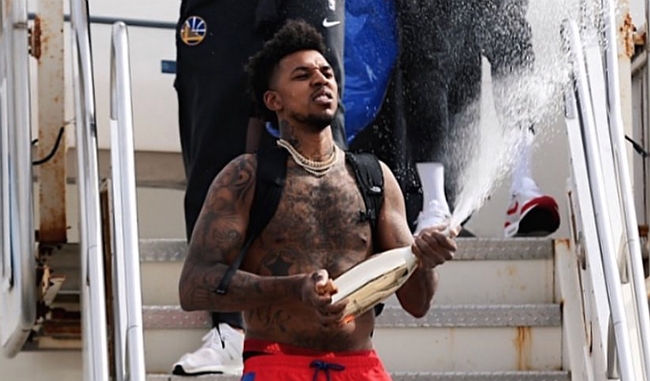 Steve Kerr said that Nick Young was in charge of planning the celebration for the Golden State Warriors on Saturday. The reason why was obvious: Young has essentially been shirtless since the Warriors won their third title in four years on Friday night.
There's just something about winning your first championship that makes your shirt disappear. Alexander Ovechkin and the Washington Capitals, for example, won the Stanley Cup in Las Vegas on Thursday night. On Saturday, Ovechkin spent the day in our nation's capital wearing and subsequently losing various shirts while drinking more alcohol than is recommended by your primary care physician.
Shirts are optional when there's alcohol and you're owed a championship ring by the forces of the universe. Even someone who recently lost a championship understands that. Which is why J.R. Smith wished his "No Shirt Brother" Nick Young a congratulations for winning his first NBA title on Sunday morning.

Smith included a photo of Young walking off the team plane popping a champagne bottle, shirtless, wearing shorts that say "MOST HATED" along with the Larry O'Brien Trophy on them. It's very clear that Young will not be wearing a shirt for the foreseeable future, and who can blame him? Smith essentially went topless for an entire summer after the Cavs beat the Warriors in 2016, attending parades, baseball games and maybe even breaking a few supermarket rules in the process.
It's a good life, if you can live it, and Young now certainly can. Considering the role Smith played in assisting in the Warriors sweep this NBA Finals, some Cavs fans may be a bit cynical about him admitting he's happy for Young. But the season is over, the Warriors are champions, and all anyone wants to do is have a bit of fun. Something tells me Young will make the most of it.