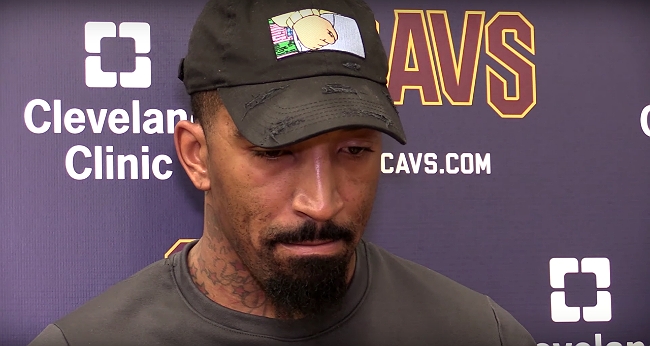 J.R. Smith isn't talking about his alleged soup-throwing incident, but he has seen your memes. The Cleveland Cavaliers guard was suspended one game on Thursday for "detrimental conduct" that turned out to be, according to multiple reports, an incident where Smith threw soup at Cavs assistant Damon Jones.
The incident set off a social media firestorm, as it was a rare, truly unique situation as no one could ever remember a soup suspension in the bas. On Saturday, Smith spoke to the media for the first time since the incident but wasn't willing to answer questions about the incident, which means we'll never know exactly what kind of soup it was.
Smith told reporters he will tell them "nothing" about his suspension, and said "honestly I don't even remember" when asked what was in the alleged bowl. So, basically, Smith says no soup answers for you.
https://www.youtube.com/watch?v=bKgoOCa1gjk
Smith made it clear on Saturday he's moving on from the incident, and his teammates were moving on, too.
"I talked to my teammates about it, everybody seemed cool," Smith said according to Joe Vardon of Cleveland.com. "We moved on from it as a team, so whether it warranted a suspension or not, that's not my job. I'm just here to play basketball."
Smith isn't going to indulge us in what became one of the funnier NBA stories of the year, but he did admit he's seen your jokes online.
"Some of them were actually pretty funny," Smith said. "I understand that everything I do is going to have a meme or whatever behind it. That's just part of the day and age we live in. If this was 15 years ago, nobody would have even knew. It's just part of the game."
I'm sure this won't be the end of it, but Smith and the Cavs seems intent on putting the incident behind them. Just like all the other incidents they've had this year.