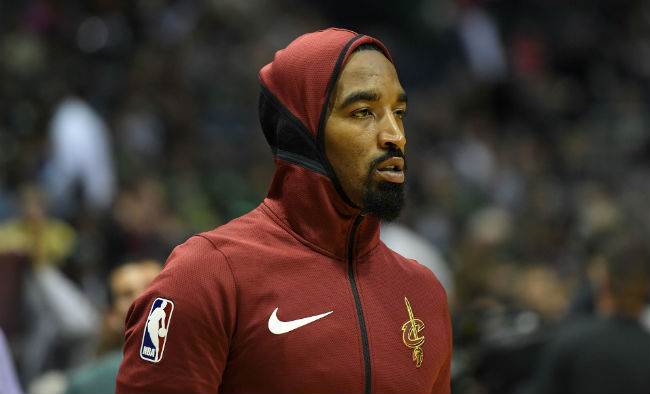 Stephen A. Smith has a lot of respect for Dwyane Wade and little respect for hooded sweatshirts. He seems to be somewhere in between about J.R. Smith, but the Cleveland Cavaliers guard seems to care little for what the ESPN host has to say after he criticized him for wearing hoodies on the bench.
Smith was speaking about Wade deciding to move out of the starting lineup and back onto the bench, essentially moving the basketball-playing Smith back into the starting five. Stephen A. basically began by praising Wade before getting wildly sidetracked, criticizing Smith's demeanor on the bench and for some reason evoking Trayvon Martin in his criticism of hoodies in general.
There's a lot going on here, including a rant about where hoodies belong and a criticism of Smith's body language on the bench.
The ESPN talking head almost immediately brought up Trayvon Martin in the discussion, too.
"I don't know why the hell Nike made these damn uniforms with hoodies that have hoods attached to it, by the way. You've got a lot of those white folks in the audience that's gonna think this is Trayvon Martin revisited. And I'm not joking about it. The bench is no place for somebody to be wearing hoodies."
I don't really understand why hoodies should not be on the bench. Or what Stephen A. dislikes about them so much. And neither does he, I guess.
"I have no problem with hoodies," said Smith, who sounds like he has a problem with hoodies. "People shouldn't be stereotyping or stigmatized for wearing hoodies. I totally agree with the Miami Heat and Dwyane Wade and LeBron James and Chris Bosh and all of those guys when they donned those hoodies back then after the shooting of Trayvon Martin by that wannabe cop Mr. Zimmerman, who should have been convicted."
Smith reiterated that the bench is "no place" for a hoodie, which I still don't understand. Players sitting on the bench wear track suits and all kinds of warmup and team gear. What's the difference if a bit of extra fabric covers their heads? But Smith used it as an opportunity to essentially blame J.R. Smith's body language for forcing Dwyane Wade to come out of the starting lineup and let J.R. start because he can "handle" it better.
"But J.R. Smith had it on. And he wasn't happy. Psychologically, he can't deal with the relegation to the degree that Dwyane Wade can deal with. He's 35. Dwayne Wade's best days are behind him, but he can still ball. He's a man, and he's mature enough to still be effective for the team moving forward without having to start. Thats a more difficult proposition for J.R."
That last bit was more than enough to set off the Cavaliers guard, who tweeted about the hoodie rant on Saturday.
It's clear Smith doesn't get why he's brought up alongside Martin. He's not protesting here, and while Smith says the murdered teenager should not be forgotten he's clearly upset about the false equivalence Stephen A. is using here.
Basically, Smith says he's not the only person wearing a hoodie in the NBA.
The last tweet about it was perhaps the most brutal.
When you need Skip Bayless to save you, not even a hoodie can make it better.