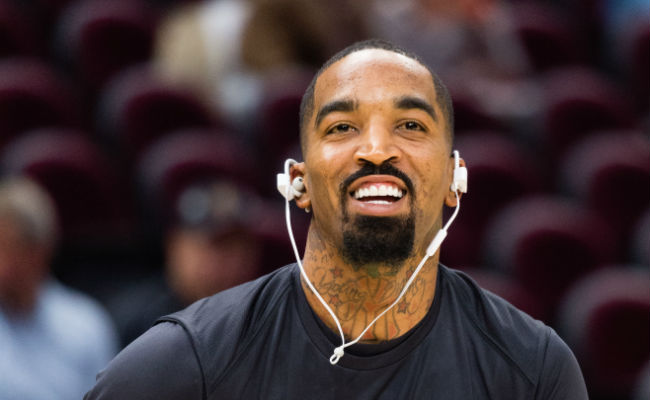 J.R. Smith threw a bowl of soup at a Cleveland Cavaliers assistant coach, earning himself a one-game suspension on Thursday night.
In one of the weirdest stories of one of the odder seasons in recent memory, Smith missed Thursday's Cavs home game against the Philadelphia 76ers because he was abruptly suspended for "detrimental conduct." Few details were available at the time, but Smith sat in favor of Rodney Hood in what would be a Cavaliers loss.
On Friday morning, ESPN's Dave McMenamin and Adrian Wojnarowski reported what exactly happened with Smith: he clashed with a member of the Cavs coaching staff, to the point that food — particularly a bowl of soup — was thrown.
It's a bizarre story, but one that's backed up by multiple sources according to their reporting.
Cleveland Cavaliers guard JR Smith earned his one-game suspension from the team Thursday by throwing a bowl of soup at assistant coach Damon Jones, multiple sources with knowledge of the incident told ESPN.
McMenamin reported on Thursday night that the incident wasn't an "off-court" one, which now obviously was meant to imply that it was nothing outside of the team facility. The story also said Smith will be back at practice on Friday, meaning all of this seems to have blown over.
Still, it's kind of fun to imagine Smith hucking a bowl of soup at a Cavs assistant on an actual basketball court. Think about it: some poor janitor having to clean up soup off the floor after practice, wondering what the hell just happened.
Anyway, hopefully everyone is OK and the soup wasn't hot enough to cause any injury. If the incident were more severe, Smith would miss more than just Thursday night's game. No word on what kind of soup it was, or its temperature, but anything creamy seems like an odd pregame meal if you ask me. I bet it was gazpacho. J.R. seems like a cold soup kinda guy.