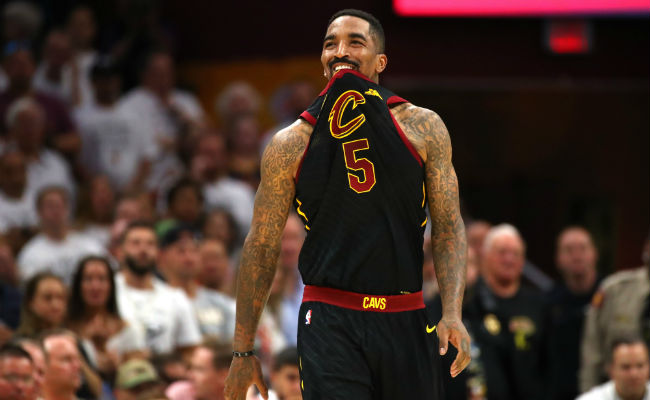 The J.R. Smith era in Cleveland is officially over as the Cavaliers waived the shooting guard ahead of the 5 p.m. deadline when his contract for this season would've been fully guaranteed.
The Cavs had hoped for the last year to deal Smith, but never were able to and so he sat out almost all of last year waiting for a resolution. That finally arrived and despite the way things ended in Cleveland, with the lasting image of LeBron dumbfounded at Smith not calling a timeout in Game 1 of the 2018 NBA Finals, he'll always be remembered fondly for his contributions to the Cavs' 2016 NBA championship and the celebration that followed.
While Smith will always be a Cleveland sports legend (as evidenced by his reception at the celebrity softball game this summer), he doesn't want his NBA career to end and will be looking for a new team once he clears waivers. For much of this summer, the Lakers seemed like the obvious destination, given the presence of LeBron James and their need for shooting, but on Monday, ESPN's Adrian Wojnarowski reported that was unlikely to happen.

This comes as a mild surprise, but given that the Lakers' roster is mostly full, it's not a shocking decision. The question that remains is what team will want Smith's services. The Rockets make sense as they're always looking for veteran shooters, and you'll likely hear the names of other contenders with roster spots as possible destinations, simply because everyone is always looking for extra firepower on the perimeter.
The team that signs J.R. will hope he can regain his form from distance, but wherever he goes, it'll likely be to play a small role and, as strange as this would have sounded five years ago, to bring his presence into a locker room.