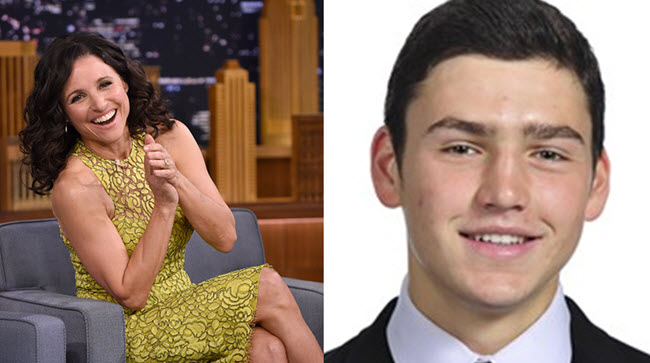 We all know the name Julia Louis-Dreyfus — well known for her role as Elaine in the hit show Seinfeld, and more recently for her roles on The New Adventures of Old Christine and HBO's Veep, which Dreyfus just won an Emmy award for Best Actress in a Comedy Series.
A name you might not know is Charlie Hall, the newest walk-on to Northwestern University's basketball team. Hall is actually the son of Louis-Dreyfus. Both Charlie's father Brad and Louis-Dreyfus both attended college themselves at NU. But never mind that, let's get down to the basketball specifics of Northwestern's newest basketball player.
Per Hall's roster bio on the team's website, he played high school ball at Crossroads High in Los Angeles, where he averaged 15.3 points, 11 rebounds and five assists per game during his senior season. Additionally, he helped his high school reach their best playoff finish since former UCLA and NBA standout Baron Davis attended the same school, and was a team captain.
Sounds like the Wildcats made a solid choice in letting Hall walk-on the team. While I'm sure his basketball skills are very good, I'm just interested to know if he can bust out moves like his mom Elaine — now that is something I think we all want to see.