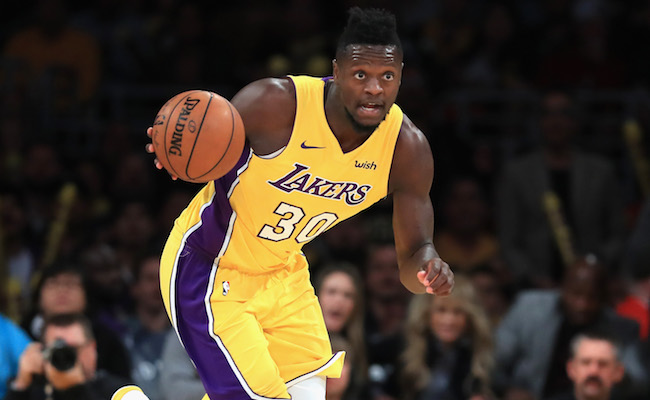 The free agency of Julius Randle has been odd from the start, beginning with at least some level of uncertainty when it came to the Los Angeles Lakers even tendering him a qualifying offer. It has to be noted that Randle's overall standing was not the cause of the weirdness, however, and his combination of youth, upside and production presents an intriguing asset for the future, even if not in a traditional box that would appeal to every team.
The end result of the saga was Randle having his rights renounced by the Lakers on Monday evening so L.A. could land former Pelicans point guard Rajon Rondo on a 1-year deal. Randle, almost immediately, took advantage of his stature as an unrestricted free agent and agreed to a two-year deal with New Orleans that will allow him to hit the market next season if he so chooses.

The 23-year-old former lottery pick averaged 16.1 points and 8.0 rebounds per game for the Lakers in his fourth season, appearing in all 82 contests and playing only 26.7 minutes per game. On a per-minute basis, that kind of production is tantalizing and Randle's efficiency (55.8 percent shooting) improved drastically during the 2017-2018 campaign.
When combining that overall production with an intriguing defensive skill set (headlined by the ability to switch), it is easy to project Randle as a valuable piece moving forward. His ultimate destiny has yet to be decided when it comes to role but Randle is a player that fits in the modern NBA and his trajectory should be fun to monitor in the future.
Playing next to Anthony Davis figures to be a perfect fit for Randle, as he'll have a defensive monster alongside him in the frontcourt and his versatility as an offensive player is complemented by Davis. As for New Orleans, it would seem to indicate they may be moving on from DeMarcus Cousins, but that remains to be seen. It's also interesting that Randle will make the exact same amount as Rondo next season, given that the two teams essentially swapped players via free agency transactions.