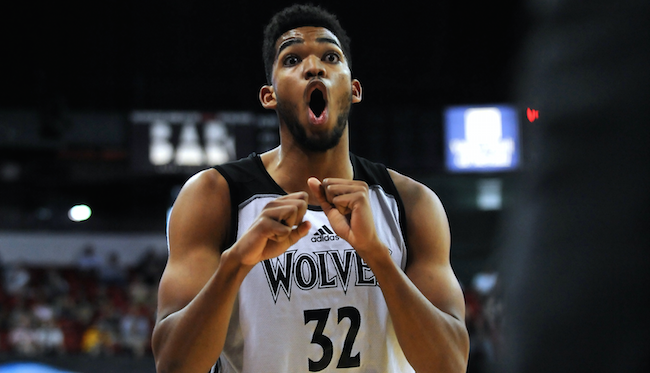 Karl-Anthony Towns isn't as polished as Jahlil Okafor. He's not as long as Kristaps Porzingis, and doesn't boast the innate playmaking feel of D'Angelo Russell. The Minnesota Timberwolves made Towns the top pick in the 2015 draft not for a singular standout attribute he already possesses, but because the 19-year-old has the potential to develop a varied, versatile set of skills the likes of which is rarely seen in seven-footers.
All of that promise was somewhat fleeting through the first three outings of Towns' professional career. He averaged 11.7 points, 7.3 rebounds, and 1.7 blocks over the Wolves' initial Summer League games, but shot just 33.3 percent from the field in the process. Make no mistake: the Kentucky product flashed the easy post-game, smooth jumper, and canny defensive instincts that has so many projecting eventual stardom. Those impact plays, though, came in a mixed bag of plays that exhibited just how much Towns needs to grow before becoming the player destiny seems to suggest.
Until Wednesday night, that is.
Towns had 20 points (7-9 FGs, 6-6 FTs), 10 rebounds, two assists, two steals, and three blocks in his team's 82-77 loss to the Portland Trail Blazers. He was a terror on both ends, scoring on pull-up jumpers and righty hooks from the block while deterring pick-and-rolls and changing shots at the rim. This was the performance the basketball world had been waiting to see from the No. 1 pick all week long.
Even more than the made and blocked shots, though, what stood out most about Towns' play Thursday was his overall comfort and patience. How many centers can knock down 20-footers, capably check smaller players on the perimeter, and make passes like this one?
For a player with Towns' combination of size, coordination and touch, the sky really is the limit. Even if he fails to develop into a go-to scorer or Defensive Player of the Year candidate, however, it's abundantly clear he'll be a two-way impact player at the very least. And if the growth Towns exhibited in Las Vegas extends to the regular season, he could prove that valuable sooner instead of later.
(Via GD's Final Highlights, via The Cauldron)