Karl-Anthony Towns and the Minnesota Timberwolves are not playing on Halloween this year, which is why the star broke out his holiday kicks for a game against the Miami Heat on Monday night.
Towns had 20 points and 12 rebounds in a 125-120 overtime win over the Heat on Monday night, but what he had on his feet got more attention than what he did on the court.
The Timberwolves star had custom Nike HyperReacts inspired by the Friday the 13th movie series, complete with a bloody Jason Vorhees.
https://www.instagram.com/p/Ba44idWDB2p/
The shoes were designed by Kickstadomus, and they really turned out great. The Jason mask on the one side is great, but the really inspired move was to use the Nike logo as Jason's weapon.
It's a look that really pops on the court, too. Here's a close-up from Getty on Monday night.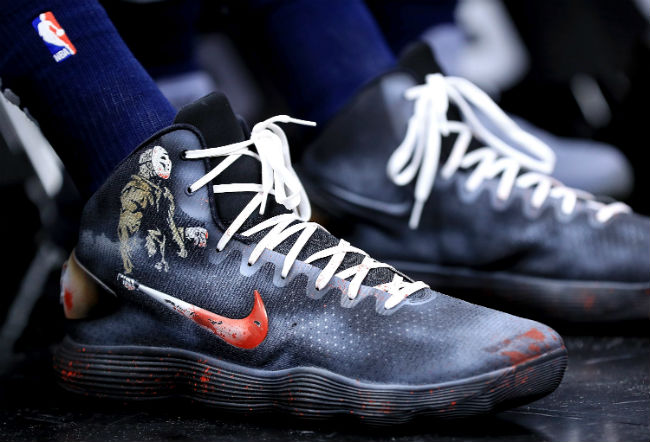 The spatter pattern and the red on the swoosh really brings everything together here. It's not exactly a full costume like LeBron James and the Cavaliers all put together, but this is an awesome way to celebrate a holiday on the court.
Besides, no one actually wants to see NBA players dressed up as famous horror movie characters. LeBron, please stop it. You're scaring everyone.