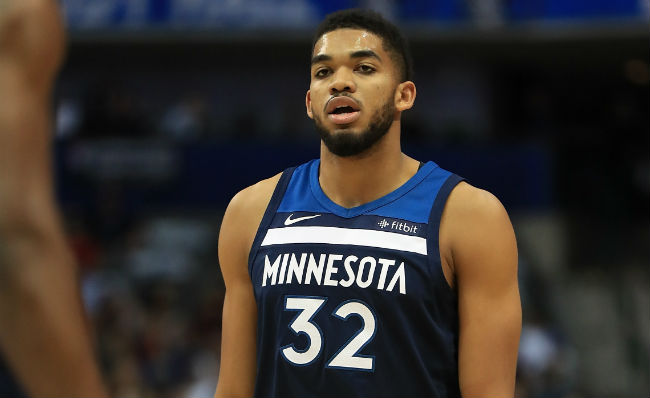 It's a strange time in Minnesota right now, as the franchise is dealing with the fact that Jimmy Butler has submitted a trade request, one which Tom Thibodeau is hesitant to honor and owner Glen Taylor wants to oblige. All of this has been happening while the team has been racing to get Karl-Anthony Towns to agree to a contract extension that will keep him from becoming a restricted free agent next summer.
On Saturday night, one of those things reached its conclusion, as Towns is slated to become a rich man. The 22-year-old center and the team reportedly agreed to a five-year supermax extension that will pay Towns $190 million, according to Adrian Wojnarowski of ESPN.

Wojnarowski's report was confirmed by Jon Krawczynski of The Athletic.
In a statement to ESPN, Towns confirmed that the two sides agreed to a deal and affirmed his commitment to the future of the organization.
"On June 25, 2015, I was drafted to and committed to the Minnesota Timberwolves. On September 22, 2018, I made a recommitment to the Wolves and have the same feelings of excitement that I felt back in 2015.

"I promise to the fans, my teammates and the organization to keep the vision of the man who drafted me, Flip Saunders, alive and treat his dream of winning with respect and dignity. To the fans from Day One and the Timberwolves fans, this is for you. Thank you for believing in me."
Towns also tweeted out a video shortly after news of the extension hit social media.
Naturally, all eyes now turn to a potential resolution in the Butler saga, but this is a major win for a franchise that could use some good news right now. Towns is among the most uniquely talented players in the league, and while the immediate future of the Timberwolves is in question, they made it a point to make sure that their young superstar isn't going anywhere any time soon.
UPDATE: One piece of information that wasn't known immediately was whether there were any options in this deal. As it turns out, Towns does not have a player option for his fifth year, making this a true five-year deal.