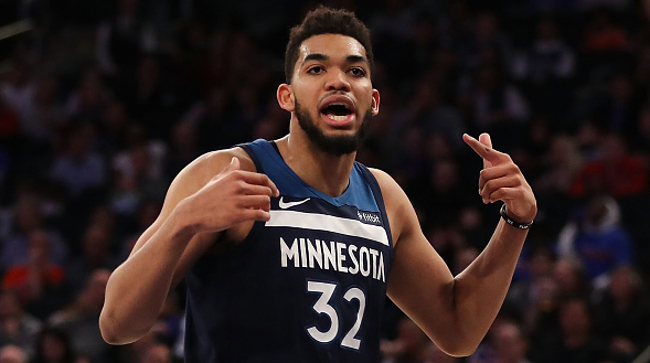 The Grizzlies and Timberwolves are both on the outside looking in on the Western Conference playoff race, with Memphis inching ever closer to officially being out of the running and Minnesota just trying to keep pace until they get healthy.
On Wednesday night in Minnesota, the Timberwolves escaped with a 99-97 win in overtime thanks to Karl-Anthony Towns' heroics at the buzzer. As you can see by neither team reaching triple digits in 53 minutes of basketball, the game could be kindly described as a defensive struggle, but after Andrew Wiggins bricked a game-winner attempt with four seconds on the clock, Towns managed to pull in the rebound on the baseline and hit a fadeaway jumper just before time expired.

Towns finished the game with a rather pedestrian 16 points and 10 rebounds in just 26 minutes due to foul trouble, as it was Jerryd Bayless of all people to lead Minnesota in scoring with 19 on the night.
Memphis appeared to take control of the game late, but were unable to close the Wolves out in regulation. Towns spun free of Bruno Caboclo for a wide open dunk to tie the game and then Mike Conley, who led all scorers with 26 points, had a high-banking layup rattle in and out with a chance to take the lead.
For the Grizzlies, the loss drops them to 20-32 on the season, pushing them closer to the realization that it might be time to hit the reset button in Memphis. Minnesota improves to 25-26 with the win, keeping them just three games back of the Clippers in the eighth spot out West.