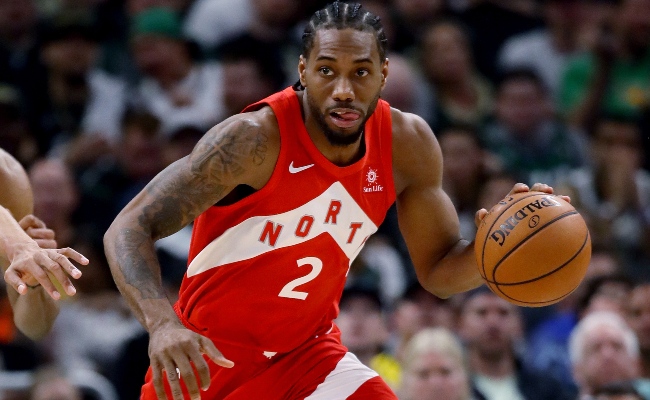 As we all hold our collective breath while waiting on Kawhi Leonard to make his free agency decision, we've been forced to find new and creative ways to occupy ourselves and search for signs just about everywhere. At this point, we're seeing indications from California plate tectonics and looking toward the heavens for any clues about which way he might be leaning.
Kawhi's is the last chip waiting to fall. Certain among us have been surprised by how long and deliberate the process has been, given the perception of Kawhi as a low-maintenance individual who mostly avoids media attention.
But that isn't necessarily out of step with how things have transpired. The lengthy decision-making process may very well have more to do with Kawhi simply taking his time to consult those closest to him and exercise patience in terms of figuring out the right move for himself. Seen in that light, it isn't very different from how he approached his last big recruitment period, prior to going to San Diego State.
Fresno State head coach Justin Hutson was an assistant and recruiter for the Aztecs when the team was looking into Kawhi, and he now sees a lot of similarities with how things are playing out now versus then. Via Andrew Greif of The Los Angeles Times:
"He's going to make [his decision] on his own terms, his own time," Hutson said. "He's going to talk to the people important to him about it. He's not going to be out leaking every little bit or have an announcement."

Hutson first saw Leonard during his junior year of high school, not long after he transferred to King from Canyon Springs High in his hometown of Moreno Valley. San Diego State was worried schools with bigger profiles would eventually spot him during the summer club circuit. But Hutson found Leonard to be unusually serious about basketball and loyal to those who treated his game the same.
True to form, it's anyone's guess where Kawhi will end up, and it seems unlikely that any amount of serenading from Snoop or Drake will sway things one way or the other. But that certainly won't stop them from trying. He was an enigma then, and he's an enigma now, and none of it will make sense until after the fact.
(Via The Los Angeles Times)