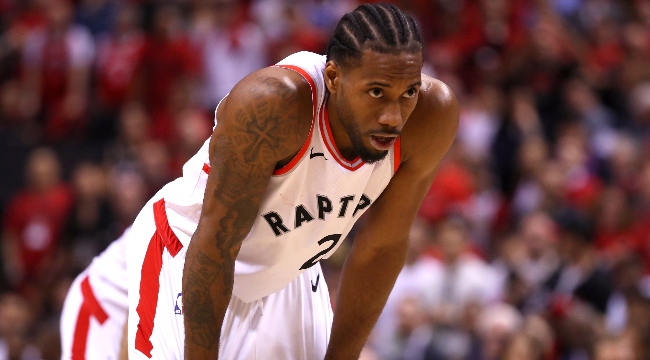 As most of the big name free agents have been plucked off the board, from Kevin Durant and Kyrie Irving choosing Brooklyn to Jimmy Butler earning a sign-and-trade from Philly to Miami (you know, eventually), one big fish still remains: Kawhi Leonard.
Through free agency's first day it's been mostly crickets from Leonard's camp as he mulls over re-signing with the Toronto Raptors or heading out to the west coast to join one of the two Los Angeles franchises. There's been no word on Leonard' timetable, and Yahoo's Chris Haynes reported that Leonard chose not to meet with any teams on the opening day of free agency.
But some details about Leonard's process have trickled out. It was reported that Leonard reached out to Durant about the possibility of them joining forces, then reached out to Magic Johnson to talk all things Lakers. And now we have a report about what went down in that meeting with the former Lakers president.

The Los Angeles Times' Broderick Turner joined Spectrum Sportsnet to provide some insight into those conversations, which featured a couple poignant questions from Leonard's camp, including whether or not the Lakers made any effort to trade for him last summer.
There was one interesting question (Leonard) had for Magic: 'Did you guys try to trade for me when I was in San Antonio?' And the answer was 'yes, but because it was Gregg Popovich and the San Antonio Spurs, and our history, they were asking for 2,000 draft picks — well, not 2,000 — like four draft picks, first-round draft picks, and we just couldn't do that.' And that was one of his questions.

"The uncle's questions were 'what's really going on in the organization between you, Jeanie, Rob Pelinka, everyone? Is it as dysfunctional as we're reading and hearing?' And the response was 'we had some issues, but we're past that. I'm past that. We're still a family, such as you fight with your brothers and sisters sometimes, well, I had somewhat of a disagreement with my sister. And Rob Pelinka, yes, I said he was a back-stabber, but that happened then. Now I want the Lakers to be a championship team. Having Kawhi here would do that.
Leonard also reportedly inquired about the possibility of bringing in his own trainers, much like LeBron did when he took Mike Mancias with him from Cleveland to L.A. The Lakers are reportedly open it to, per Turner.
We still don't know Leonard's true intentions, but the Finals MVP is certainly doing his due diligence in his free agency.