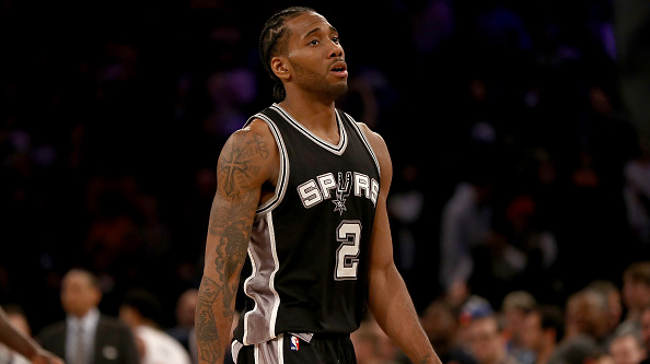 Normally, Gregg Popovich likes to sit his star players during marquee match-ups for no good reason other than rest (and, of course, as a giant middle finger to anyone who might challenge his authority). But it's looking like there's a legitimate reason why Kawhi Leonard will miss Saturday night's prime-time showdown against the Warriors.
According to a team statement, Leonard has been put into the league's concussion protocol after leaving Thursday night's game against the Thunder after getting hit in the head.
Leonard has recently emerged as a viable MVP candidate in a race that has been headlined by Russell Westbrook and James Harden for most of the season. That's thanks in no small part to his dominant performance in a gritty victory over the Rockets last week, during which he nailed a clutch three-pointer followed by a game-sealing block on Harden, all within a six-second interval.
Per the league's concussion protocol, Leonard will have to undergo a battery of tests administered by a physician before he can return to action and could miss multiple games depending on how quickly he progresses. There is no set timetable for a recovery, ultimately leaving it up to his doctor's discretion.
Leonard's absence will ostensibly offer the Warriors a bit of a breather as they head into a brutal stretch of the schedule while trying to hang on to the top spot in the West. After an ugly fourth-quarter meltdown against the Celtics on Wednesday, plus the continued absence of Kevin Durant, Golden State's grip on the No. 1 seed looks looser than ever, although Leonard's concussion clearly complicates that endeavor for the Spurs.