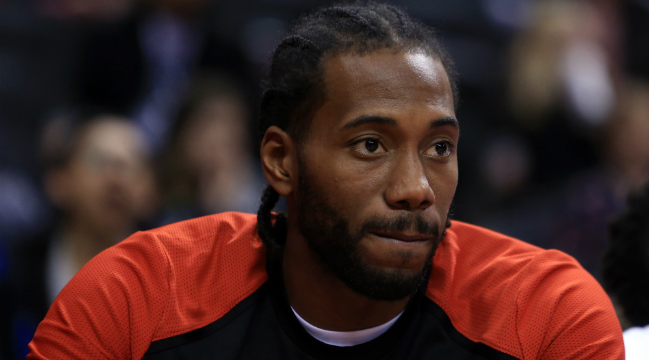 Kawhi Leonard and the Spurs had a very awkward ending to their time together. The now-Raptors star sat out pretty much all of last season with a quad injury. How that injury was handled led to a lot of tension between he and the Spurs organization. Eventually, Leonard requested a trade from the Spurs and was dealt to the Raptors.
It was a strange ending to a relationship that not long ago felt like a perfect fit. Leonard is the kind of star that seems to hate attention. The Spurs are an organization that thrives in anonymity. They avoid attention as much as possible. With that avoidance comes very few looks into how they work internally. Who, for example, is the leader of the locker room?
Well, according to Gregg Popovich, it apparently wasn't Leonard while he was with the Spurs. He recently told media pregame in Milwaukee that Leonard wasn't the best leader. It was a criticism that immediately drew attention given the way his time in San Antonio ended, but Kawhi seems to disagree with Popovich's assessment.
Leonard was inevitably asked about his former coach's comments on Monday and essentially said "it's funny" how easy it is to forget the impact a player has when he's not around.

"It's just funny to me. I don't know if he's talking about last year or not. I guess when you stop playing they forget how you lead," Leonard said. "Other than that it doesn't matter — I'm here with the Raptors and I'm gonna focus on the season."
Leonard gave a line many quiet superstars give when asked about leadership: it's all done by example.
"(I) lead by example. Coming into practice every day. Just going hard. Coming into these games mentally focused," Leonard said. "You can't see things once you're playing on the floor. Guys ask me questions about their matchup or if I see something on the floor I'm telling guys go here, go there. Just motivating people, you know what I mean? Just try to lift people's spirits. Don't try to get nobody too down."
Leonard didn't seem too happy about the comments, but he's also not the type to show how he's actually feeling to the media very often. Leadership is also one of those star player attributes that nobody really understands no matter how hard we try. Is leading by example a good thing? That's hard to say. Some locker rooms need example while others need players on a more vocal level. Looking back, Popovich probably wanted someone that was a little more vocal in his locker room.
It's also important to mention that being the best player does not necessarily mean leadership. The leader of a locker room is someone that everybody respects. It helps when that player is also the most talented guy on the floor, but it's not always the case. As long as the locker room can work together, that should be enough. And it was in San Antonio for a long time. Then, things changed.