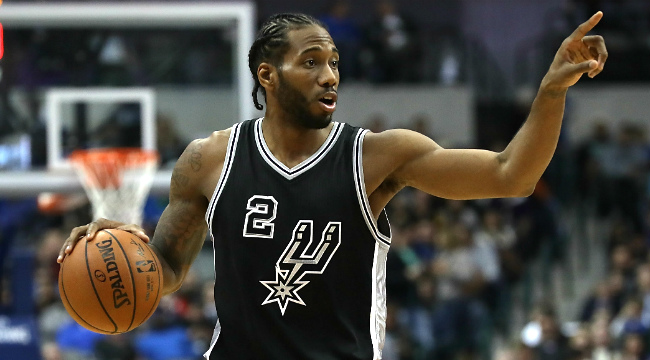 The NBA Awards on Monday night will finally give us the answer to the biggest question of the NBA season: Who will win the MVP award? The three finalists for the award are Russell Westbrook, James Harden, and Kawhi Leonard. The individual exploits of all three were incredible this year, but the offensive efforts of Westbrook and Harden stood out above the rest of the league all year.
Westbrook became the first player to average a triple double for a season, while still averaging over 30 points per game, while Harden wasn't far off from averaging a triple double of his own in a tremendously efficient offensive season. Leonard's raw offensive numbers don't match up to Westbrook or Harden, but his efficiency stats certainly do and his impact on the defensive end of the floor is the hardest thing to quantify in comparison to what Westbrook and Harden do on offense.
With the MVP award being handed out tomorrow night, Jordan Brand created a commercial touting his great two-way play and reminding everyone why Leonard was among the finalists along with Westbrook and Harden.

The commercial poses two key questions. One, is Leonard a better offensive player or defensive player? And two, could Kawhi Leonard get buckets on Kawhi Leonard?
Both are very good questions, as Leonard has become an offensive force for the Spurs and elevated his game on that end of the floor to match the level of his defensive play that's earned him two defensive player of the year awards. The second question is one that can only be answered in a video game. The spot is great, but, unfortunately for Leonard, voting has long been closed so this can't do anything to sway anyone in his favor.