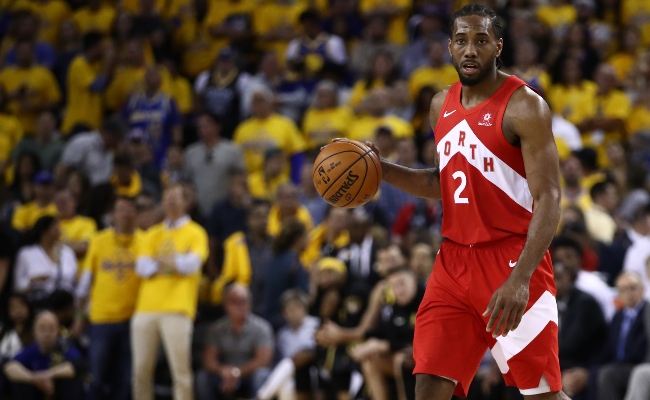 OAKLAND – As the second half was about to begin in Game 4 with the Raptors trailing 46-42, it felt like the team that would take control of the third quarter would not only win, but gain the upper hand in the series, even though momentum isn't real and life is a series of Tolstoy coincidences.
At home, in what was at best the second to last game at Oracle ever, Steph Curry, Draymond Green, a gutsy Klay Thompson, and the rest of the Warriors needed to muster up a signature of their current run or risk watching their otherwise impenetrable dynasty crumble. One more indomitable third quarter could stamp out the Raptors and send the Warriors back to Toronto tied 2-2, with Kevin Durant potentially waiting in the wings and the champs set up to play a best of three to three-peat.
There was only one problem: Kawhi Leonard.
Leonard started the quarter with a three, a steal, and another three in the first 46 seconds. Many of Oracle's big ticket fans, who pay ungodly amounts of money for the privilege and are a big part of the reason why the team is moving to San Francisco to open a giant playground for the rich instead of staying in Oakland, hadn't even gotten back to their seats yet from the hospitality lounge. Just like that, the Raptors were up. Just like that the Warriors were faced with death.
"Kawhi Leonard came out and hit two big F-you shots to start the half," Raptors guard Fred VanVleet said after the game. "There's no defense for that. There are no schemes for that. That's two big-boy shots that he came out of the half with, two back-to-back threes. And that just kind of let you know how we were going to approach the third quarter and the rest of the half."
Leonard has a knack for delivering in the biggest of moments (see: fortuitous bounces and lingering beats as his game winner went down against Philly), but quietly he's become a one-man third quarter killer the likes of which we've only previously seen out of the Warriors. Heading into Friday, Kawhi averaged 10.8 points in the third quarter on 55.6 percent shooting and a scalding 52.6 percent from beyond the arc during the playoffs.
In Game 3 against the Warriors, Leonard's ability to dominate after the break was on display, going for 15 points on 4-for-6 shooting with three boards, two dimes, and two blocks. But it's hardly the first time he's shown a Warriors-esque ability to take over the third. In Games 3 and 4 against Philly — a loss and a win for the Raptors, respectively — Leonard put together back-to-back 14-point third quarters on 11-for-12 shooting. Following a Game 1 loss to the Orlando Magic, Leonard's third quarter in Game 2 was a virtuoso performance, dropping 17 points on 7-for-9 shooting.

Game 4 was no different. Leonard dazzled with drives, jumpers, and one more of those "F-you" shots to close out the quarter with 17 seconds remaining off a curl. He finished with 17 points on 5-for-7 shooting in the period, and the Raptors had a 12-point lead to show for it.
The team took their cues from Leonard, and their veteran point guard in Kyle Lowry did the rest. Lowry set up Serge Ibaka (20 points), showed complete calm, and provided a steady hand running the show as Kawhi looked for his shot. If anything, this game served as the collective exhale by Lowry, who shed years of playoff horror in Game 3 (23 points, nine assists), and looked as polished and unflappable as anyone out there. He may have shot just 3-for-12 from the field, but had seven assists and repeatedly used patience to get a good look for his teammates anytime the Raptors needed a big bucket.
It was another showcase for Leonard, who proved once again just how important he is to the Raptors, and how much of a star he is in this league. Robert Williams may be the Time Lord, but Leonard might be the true keeper of the Time Stone with his ability to play at his pace, on his terms, in his mirror dimension.
"Man, it's crazy," Raptors forward Pascal Siakam said. "Just watching [Kawhi], it's amazing the way he plays and how he gets to where he wants to get to. It never seems like he's in a hurry. What can you say? The dude is just nice."
For the Raptors, it'll be nice to get home, and even nicer to be up 3-1 and a game away from the title with three shots to get there. There's no question they've been the better team through four games, injuries or not, and the Warriors are left to collectively scramble as Toronto can play its game and continue to use its physical, imposing identity to go scorched earth on Golden State. There's no quit in these Raptors, they just keep charging.
Outside of that one sustained run that spread across the second and third quarters of Game 2, Toronto has had an answer for every big shot the Warriors have hit. Steve Kerr's team has put everything into keeping pace, but the cracks are showing, especially on defense, and the injuries have left no margin for error. Maybe it's Kawhi's presence seeping into everything, the stone-eyed, steady handed mixture of surgeon and contract killer that has the Raptors this close to a Larry O'Brien Trophy. Maybe it's collective years of long playoff runs, locker room whispers, endless news cycles, and the outright exhaustion that comes from having to play at a championship level.

Just as Millennial Burnout is real, Championship Burnout isn't such an absurd concept. It's worth exploring at a later date, but not without qualifying any claim after the dust settles with the sheer fact that this Raptors team is really freaking good. They beat an extremely physical Sixers team with stars across the board, then followed that up with an impressive series against Giannis Antetokounmpo and the Bucks' talented bunch of shooters.
In retrospect, it feels as though this beta tested Toronto in preparation for these Warriors, with or without Durant, and Leonard's load management throughout allowed him to be as locked in as possible while pushing the rest of the Raptors to grow and take the shape of their container as a result.
The Raptors have found their kryptonite for the Warriors' super third quarter, and if they can put together one more in the next three chances against the champs, they'll have their hardware to show for it. It starts and ends with their major offseason acquisition, a go-for-broke risk that has Toronto free rolling into Game 5.
"I don't think you're ever going to rattle Kawhi," Draymond Green said from the podium. "Not sure we used that word one time in our scouting report, [that] we're going to rattle him. But you just try to make him take tough shots, and you live with the results."
We all know the Board Man is getting paid this summer, but before that happens, the Raptors are four quarters from immortality. The only thing left to hope is that the conversion rate for a 3-1 lead will hold true in the North.