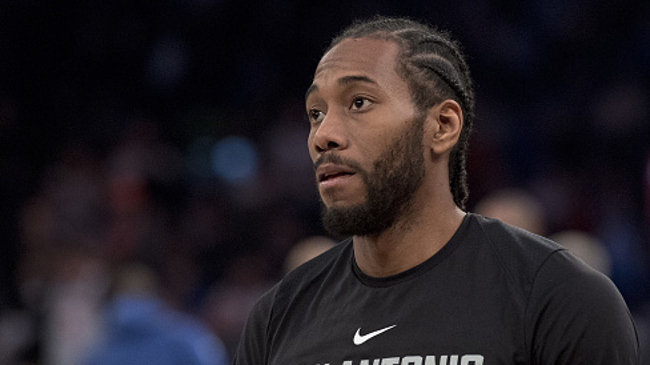 The San Antonio Spurs have prided themselves on being one of the most low-maintenance franchises in the NBA for the past two decades. They've filled their roster with humble superstars who have willingly sacrificed for the good of the team, and they've consistently played a style of basketball that is the dream archetype of hoops purists everywhere.
Which is why the ongoing Kawhi Leonard situation has been so baffling. He's played just nine games all season, and there have been some discrepancies between the organization and his camp about his ability to return to action, as well as a time line for his return.
Head coach Gregg Popovich has previously admitted that he doesn't expect Leonard to return at all this season, and that fear was reportedly confirmed on Sunday.
Via Shams Charania of Yahoo Sports:
Leonard has been rehabbing in New York because that is where his medical staff is located, and he has not been cleared by his doctors, league sources said. Time has run short for Leonard — one of the league's best players when healthy — to make a sensible return to the Spurs, who lost Game 1 of their first-round series to the Golden State Warriors on Saturday. Leonard has made strides recently in training and is focused on regaining his full health, league sources told Yahoo Sports.
The disconnect has, understandably, called into question his future with the franchise, although Leonard, for his part, has insisted that he wants to finish his career in San Antonio.
Some of the perceived drama stems from his logistical absence from the team. Leonard has been in New York rehabbing with this medical team, and though certain media members have interpreted that as further evidence of a disconnect, Jabari Young of MySanAntonio.com reports that decision was made in collaboration with Leonard's team and the Spurs' medical staff.
Though national reports suggest Leonard and his camp decided to leave the team, sources told the Express-News the Spurs also suggested Leonard remain in New York to rehab following his routine checkup from doctors.

Leonard also continues to be monitored by two team officials while away in New York, and he's provided the Spurs with constant updates on his status since being sidelined once again since Jan. 15 before the Spurs played the Atlanta Hawks.

Young also notes that nothing official has been decided about Leonard's status, as he continues to be listed as OUT (injury return management) on official documents, but not ruled out entirely. That said, it doesn't appear as though the Spurs are long for the playoffs after the start to their series with Golden State, so it would seem to mean a miracle would have to happen to get Leonard back before they're knocked out.
It's not an ideal scenario by any stretch of the imagination. The defending champion Warriors categorically dismantled an undermanned Spurs team in Game 1 of their opening-round series on Saturday, and beyond that, questions about both Leonard's relationship with the organization, not to mention his long-term health, will linger until he steps back onto the court sometime in the future.