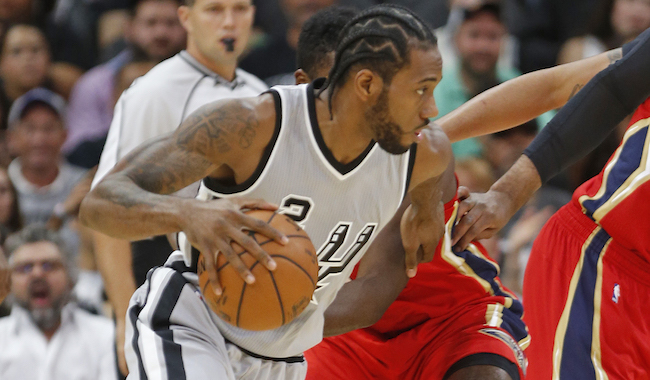 The San Antonio Spurs are struggling mightily as mid-March approaches and, in some ways, that makes sense given the state of the team's roster. After all, star forward Kawhi Leonard has appeared in only nine games this season and, with him on the sideline, not even Gregg Popovich can be expected to keep this team in the 50-win range that the NBA world comes to expect from San Antonio.
The Spurs are currently tied for fifth in the hotly contested Western Conference playoff race, but sit just 1.5 games ahead of the tie for eighth and in legitimate danger of missing the postseason for the first time in two decades if things don't turn back around. However, there is now hope in the near future, as Lisa Salters and Adrian Wojnarowski of ESPN are reporting that the Spurs project Leonard to return to game action on Thursday against the New Orleans Pelicans.

The Spurs take on the Thunder, Rockets and Magic before hosting the Pelicans on Thursday but, even with only 14 games remaining should Leonard return on the projected date, his presence would certainly rejuvenate the squad with plenty of time to right the ship. There have been signs of hope in recent days, including Leonard's assertion that he wants to stay with the Spurs for the remainder of his career and cautious optimism for a March return has been in existence for a while.
Still, it has been a wide-ranging saga in San Antonio, including an assertion from Popovich earlier in the process that he would be surprised if Leonard returned at all this season. At this point, that particular outcome seems unlikely but, as with any long-term injury, the potential for a setback or a slow build is in play and, with the current margin for error, San Antonio can ill afford anything going wrong down the stretch of the regular season.
Kawhi Leonard returning to the floor this week would be huge news for a variety of parties in the West but, above all, the San Antonio Spurs would be far more intriguing in the short term if and when their best player suits up for the first time since January.