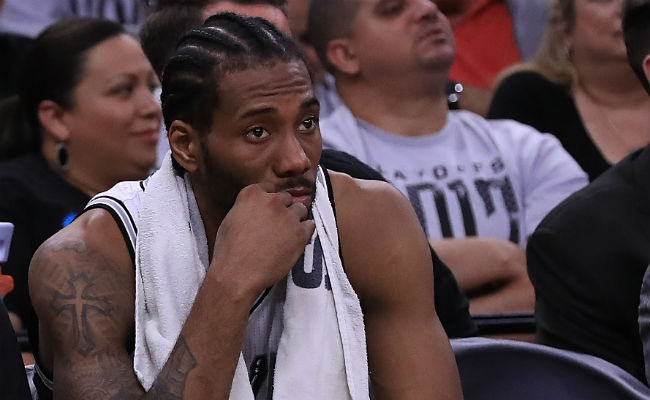 The San Antonio Spurs have six games left during the 2017-18 regular season, and the big question looming over the final stretch of the year revolves around whether Kawhi Leonard will take the floor. Unfortunately for San Antonio, it looks like the pesky quad injury that has plagued Leonard all season is still giving him some serious issues.
According to Adrian Wojnarowski of ESPN, Leonard does not have a timetable to return to the team. That's because San Antonio's potential MVP is heading back to New York so he can continue to rehabilitate his injury.
Wojnarowski and Michael C. Wright wrote that "optimism has waned that Leonard will play in any of the Spurs' six remaining regular season games or join them in the Western Conference playoffs." Additionally, the pair reported that members of the Spurs' medical staff are being kept in the loop on how things are going in New York.
Spurs staff has traveled to New York to meet with Leonard and stay abreast of his treatment and activity, sources said. Leonard has been using the National Basketball Players Association headquarters gymnasium facilities in recent days, sources said.
Leonard has only appeared in nine games this season due to the injury. Manu Ginobili has said that he believes the Spurs' best course of action is to assume that Leonard won't get the chance to take the floor at any point during the remainder of the 2017-18 campaign, and while anything can happen, the latest news seems to imply that his line of thinking is correct.
Despite Leonard's injury, San Antonio is 44-32 on the year and sitting in fourth place in the Western Conference.