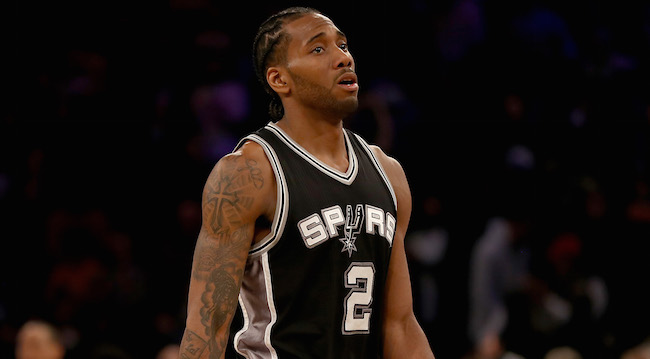 The Spurs have spent the past 20 seasons as the NBA's model franchise. Their consistency and sustained success has been something others around the league have marveled at, as has the culture they've built to allow that to happen.
San Antonio has had a revolving door of selfless superstars, willing to pass the torch when necessary and do what's best for the franchise at all times. The most recent example of this occurred over the weekend, when point guard Tony Parker was willing to accept Gregg Popovich asking him to come off of the bench despite being a starter since he entered the league in 2001.
The Spurs' current superstar is Kawhi Leonard, who those that follow the league have long joked is a robot programmed by the Spurs to be the perfect player. Leonard's ability to add pieces to his game and get better seemingly every season to become more than just a defensive stopper and emerge as one of the league's most efficient offensive players has been awe inspiring. He's the league's quietest and most anonymous superstar, the perfect heir to Tim Duncan's longtime throne.

However, Leonard has recently found himself going through difficult times as his right quadriceps injury has forced him to miss all but 10 games this season. Leonard was put back on the Spurs' injury report and listed out indefinitely last week as he will continue trying to get healthy, but according to ESPN's Adrian Wojnarowski and Michael C. Wright, the persistent injury has led to a rare bit of tension between the Spurs' franchise and its star player.
Months of discord centering on elements of treatment, rehabilitation and timetables for return from a right quadriceps injury have had a chilling impact on San Antonio Spurs star Kawhi Leonard's relationship with the franchise and coaching staff, league sources told ESPN.

Under president and coach Gregg Popovich and Buford, the Spurs have a two decade-long history of strong relationships with star players, but multiple sources describe Leonard and his camp as "distant" and "disconnected" from the organization.
The Spurs were quick to deny these reports, with GM R.C. Buford telling ESPN that while there have been frustrations on both sides regarding the slow process of Leonard getting back, there has not been any antipathy on either side towards the other but instead that it's been a difficult rehab process because it has not gone according to plan.
"There is no issue between the Spurs organization and Kawhi," Buford told ESPN. "From Day 1 all parties have worked together to find the best solutions to his injury."

Buford described a frustrating process of rehabilitation for what has been an elusive solution to an injury.

"This has been difficult for everyone," Buford told ESPN. "It's been difficult for Kawhi. He's an elite level player. It's been difficult for the team, because they want to play with a great teammate. And it's been difficult for our staff. Historically we've been able to successfully manage injuries. This rehab hasn't been simple and it hasn't gone in a linear fashion."

In any case, it would be hard to fault either side for being frustrated with the injury rehab process. Any time a player is dealing with an injury that doesn't have a traditional timetable, like a broken bone or damaged ligament, and everything comes down to comfort with setbacks a regular occurrence it's easy for both sides to be annoyed with the progress or lack there of.
Parker's rehab from a similar, more severe quad injury went much smoother, which likely plays a role in the frustration from both sides as Leonard's quad has not responded the same way to rehab. While Buford refutes the idea of there being tensions, there is probably something to the report.
The good news for San Antonio is they have plenty of time to repair any fracturing of their relationship with Leonard and his camp, as he's signed through the 2018-19 season with a player option for 2019-20, and they have a history of making things work with their stars even when there are signs of trouble. One has to look back only to this summer when LaMarcus Aldridge requested a trade and instead the Spurs adjusted to make him comfortable to see an example of how San Antonio manages issues with players differently than most franchises.