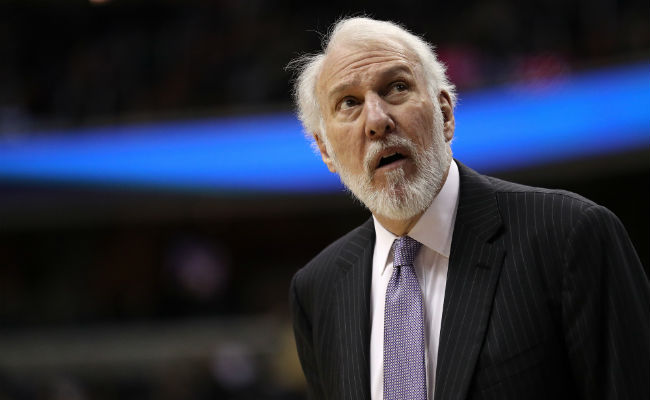 Kawhi Leonard and the San Antonio Spurs have a lot to discuss before next season. The Spurs will be interested to see how his rehab in New York is going, as they were not involved with it in recent months. And reports have indicated that the relationship, like every important relationship in this world, will require some serious maintenance to keep it healthy.
Breakups in the NBA come by way of trade, but the Spurs are unlikely to give up on Leonard so easily. He's just 27, and if you believe he can return fully healthy should still be in the prime of his career for some time. But if you look at how this weird drama has played out, it's clear that Leonard is likely upset about more than just his injury and rehab.
According to a report from Frank Isola of the New York Daily News, Leonard will have grievances of his own that need fixing when the two sides sit down to fix their "broken" relationship later this spring.
Isola cited an anonymous NBA executive who claimed Leonard wants to see changes with the Spurs from coach Gregg Popovich, including that the coach "lighten up" when it comes to team practices. With a potential supermax deal on the table for Leonard from the Spurs, the team could make a huge investment in his future, if they think it's worth the cost of making him happy.
"Don't you have to sign him," asks one rival executive. "From what I understand, he wants (Gregg) Popovich to lighten up a little with practice and tweak some things. The Spurs may not want to change their ways, but this is Kawhi Leonard we're talking about."
Leonard has his own "team," an oft-mentioned fact when discussing his own health and rehab. But it's unlikely that this information is coming from his people, because it doesn't exactly put him in a great light. And since Isola covers the Knicks, a team with some significant interest in potentially trading for Leonard, you can draw your own conclusions about where this kind of thing might be coming from.
It seems to reason that the anonymous NBA executive putting this out there would love to see Leonard playing elsewhere this fall, perhaps on their own team. So there's probably an agenda behind this kind of statement, but isn't that always the case in situations like these?