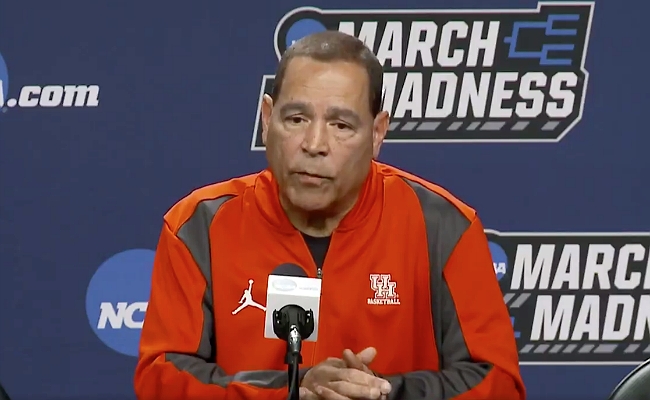 The NCAA, specifically when it comes to basketball and the concept of "amateur athletics," is on the brink of change. The one and done rule is going away, and the NBA is making strides to build its G League into a viable alternate if the concept of playing for free for a university reaps the benefits doesn't sound very fair.
The value of amateurism is certainly at an all-time low among those that cover the sport, but colleges and the NCAA work hard to preach the value of amateur athletics for its "student athletes." And the spectacle that is March Madness, while exciting, offers some strong rebukes of that value. The latest comes from Houston coach Kelvin Sampson, who feels that the parents of his players should get invited to NCAA Tournament games so they can see their children play.
Sampson told a heartbreaking story on Saturday about an unnamed player whose parents couldn't afford to fly to Tulsa, Oklahoma, and get a hotel room to watch one of his players in the tournament.
"It's not money, it's travel. And hotel rooms," Sampson said. "I had one of my kids — I'm not going to mention who it is — His parents would like to come and the only way they'd be able to is drive."
Eschewing flights on short notice and a long drive doesn't solve the problem, though. The tournament means at least two nights in a hotel, and possibly more if the Cougars win, which they did on Friday.
"For a lot of people that's not a big deal. But it's a big deal for that family. They don't have the money to do that. So they would have to decide how they would do it," Sampson said, noting that the family asked if they could sleep on the floor of their son's hotel room.

"I've had families ask me 'Can I sleep on my son's floor in his room?' Think about that," Sampson said. "That's my life. That's not unusual for me. Can I sleep on his floor because they don't have the money to pay for a room."
Sampson made it clear: he doesn't have the answers or the exact level of compensation for his players. But he feels the least the NCAA could do is help parents see their sons and daughters play in tournaments that generate millions of dollars in revenue each year.
"When you're looking around at how big this industry has become, why can't we figure that out?" Sampson asked. "I'm not saying give them this or give them that, I'm saying that when young men get to the NCAA Tournament, let's find a way to get their parents and their brothers and sisters a plane ticket and a hotel room. I don't think that's asking too much."
As usual, a lack of solutions currently should not prevent an honest conversation about how this should work. That it doesn't work right now, for anyone but the NCAA and colleges around the country, is the bigger problem.