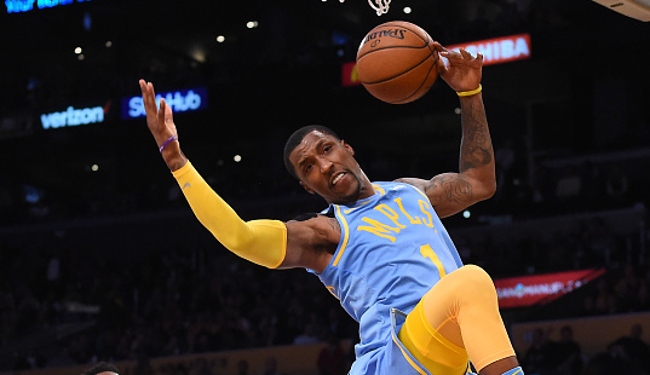 Kentavious Caldwell-Pope was a free agent for the second summer in a row. Last year, the then-Detroit wing took a gamble on himself, reportedly turning down offers that did not meet his salary demands. When the lucrative, long-term contract he wanted never came, Caldwell-Pope agreed to a one-year deal with the Los Angeles Lakers for nearly $17.8 million.
Now, Caldwell-Pope is trying again, testing the market as an unrestricted free agent and seeing what he can get on the heels of this past season. However, word broke on Sunday that the sixth-year wing will run it back for one more year with the Lakers for $12 million, as the Klutch Sports client will be joining LeBron James in Los Angeles.
Caldwell-Pope will turn 26 in February, and throughout his career, he's shown signs of being a talented 3-and-D wing. He had his best season from as a shooter with the Lakers, as Caldwell-Pope connected on 38.3 percent of his threes and 42.6 percent of his attempts from the field. Additionally, Caldwell-Pope averaged 13.4 points per game for Los Angeles, and had a career-best 5.2 rebounds per game.