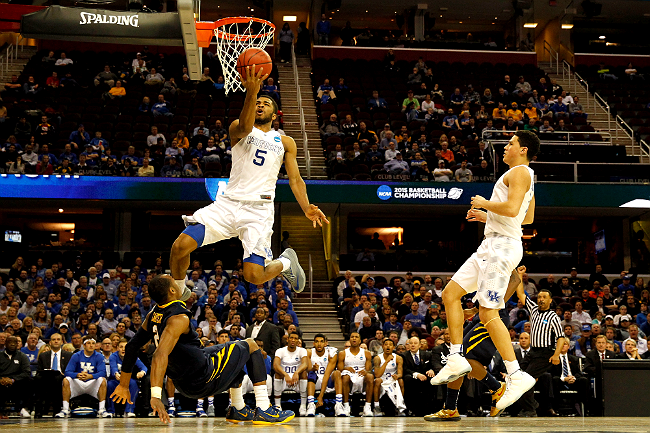 Let's get this out of the way: Kentucky probably will win the NCAA Tournament. The Wildcats have not lost this year. They have a top five offense and defense. They roll about 30 players (exaggeration) deep. They have one of the best coaches in the country. And of those 30 players (exaggeration, again), most of them are going to be playing in the NBA someday.
That being said, this is college basketball we're talking about, where the best team doesn't always win and weird things happen constantly. Whenever you're playing a sport on short timeframes with a lot of pressure involving human beings who use milk crates as furniture and steal their silverware from the dining hall, these kinds of things happen.
So we have to entertain the possibility that Kentucky might lose in the 2015 NCAA Tournament. (Once again, the appropriate disclaimers for #BBN here: I do not think this is going to happen, and I am picking the 'Cats to win it all in my bracket, which you can see in its entirety here.)
But who could take down Kentucky? If it's going to be anyone, it's probably going to be one of these eight teams.
No. 3 Notre Dame Fighting Irish (29-5, KenPom 10, RPI 16)
Notre Dame is another one of those teams (like Gonzaga) fighting to make a deep tournament run for the first time in a long time. And it won't be easy considering the Irish find themselves in Kentucky's bracket. That being said, if you beat the presumed champ, you can pretty much do anything at that point. What Notre Dame can do, without question, is score. The Fighting Irish showed that in droves at the ACC Tournament, capturing their first ever conference tournament title.
The duo of Jerian Grant and Pat Connaughton are tailor made to be March heroes, and there are some other good pieces here (including Zach Auguste in the post, guard Demetrius Jackson, shooter Steve Vasturia and freshman Bonzie Colson). The Fighting Irish aren't going to go far if they don't defend, though.
No. 1 Wisconsin Badgers (31-3, KenPom 3, RPI 2)
You're going to hear a lot about how much of a threat Wisconsin poses to Kentucky on the broadcasts for as long as the Badgers stick around. And there are plenty of good reasons why. Bucky has two of the best college players in the country in Frank Kaminsky and Sam Dekker. Nigel Hayes and Bronson Koenig can also get it done.
Despite Wisconsin's slow tempo, it is arguably the most efficient team in the nation. This bodes well against a team like Kentucky. If you can maximize the value of each of your possessions and keep the Wildcats from getting out and running against you, the game tightens up. If that happens, the odds of knocking off a more talented team (and don't get me wrong, Wisconsin is plenty talented in its own right) tend to go up.
No. 2 Arizona Wildcats (31-3, KenPom 2, RPI 6)
Sean Miller's team is already in a region with Wisconsin, Baylor and North Carolina, so simply making it to the Final Four would be a feat in and of itself. If the Wildcats can move on through, and do so convincingly, it only increases the odds that they won't fear Kentucky. What Arizona does have is an extremely balanced team with a lot of intriguing parts.
The Wildcats defend extremely well, have a superstar freshman in Stanley Johnson, other talented wings in Rondae Hollis-Jefferson and Brandon Ashley, a good ballhandler (T.J. McConnell) and enough bigs to typically not have to worry about foul trouble. These teams usually do well in the tournament to being with, and nobody understands Wildcats better than other Wildcats (this might not be true).
No. 1 Duke Blue Devils (29-4, KenPom 7, RPI 5)
How do you beat the best team in the country? Having (arguably) the best player in the country certainly doesn't hurt. Jahlil Okafor has shown the ability to score against anyone, and Duke at times has had stretches (that first half against Notre Dame in Cameron Indoor comes to mind) where it has looked flawless. The Blue Devils hold road or neutral wins over Wisconsin, Michigan State, Louisville, Virginia and North Carolina, so it's not just a home court bump either.
With Quinn Cook, Tyus Jones and Matt Jones, Duke has plenty of threats from outside. Justise Winslow can slash and attack and is terrific on the break, although he needs to demand the ball more at times. Duke won't be able to do it if Okafor gets into foul trouble or refuses to play defense, but leaving Greensboro in the ACC Tournament left everyone in the Blue Devils locker room sour following the game, and refusing to accept complacency might finally be settling in. If that's the case, Duke has as good a shot as anybody at beating the Wildcats.
No. 2 Gonzaga Bulldogs (32-2, KenPom 6, RPI 8)
Finally the Dogs vs. Cats angle I've been waiting to write about. Gonzaga beat some pretty good teams this year and only lost to Arizona and BYU, so it was pretty locked in throughout the year. Mark Few has consistently been bringing in some really good talent, and this year's team might be one of his best yet. Kevin Pangos makes this team go, Domantas Sabonis can do a little bit of everything, and Przemek Karnowski and Byron Wesley aren't slouches.
Plus there's the revenge angle for Kyle Wiltjer. A former Kentucky transfer, Wiltjer has taken his game to a whole new level at Gonzaga, and he might relish the opportunity to play his former team. Or at least that's a narrative that will get beaten into the ground if the Bulldogs can actually make it to the second weekend.