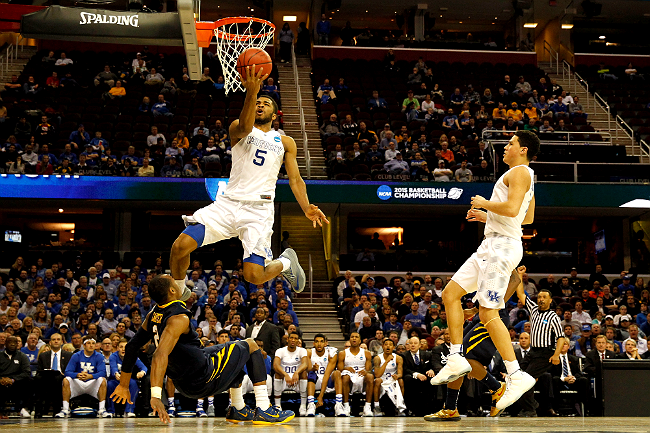 Let's get this out of the way: Kentucky probably will win the NCAA Tournament. The Wildcats have not lost this year. They have a top five offense and defense. They roll about 30 players (exaggeration) deep. They have one of the best coaches in the country. And of those 30 players (exaggeration, again), most of them are going to be playing in the NBA someday.
That being said, this is college basketball we're talking about, where the best team doesn't always win and weird things happen constantly. Whenever you're playing a sport on short timeframes with a lot of pressure involving human beings who use milk crates as furniture and steal their silverware from the dining hall, these kinds of things happen.
So we have to entertain the possibility that Kentucky might lose in the 2015 NCAA Tournament. (Once again, the appropriate disclaimers for #BBN here: I do not think this is going to happen, and I am picking the 'Cats to win it all in my bracket, which you can see in its entirety here.)
But who could take down Kentucky? If it's going to be anyone, it's probably going to be one of these eight teams.
No. 3 Notre Dame Fighting Irish (29-5, KenPom 10, RPI 16)
Notre Dame is another one of those teams (like Gonzaga) fighting to make a deep tournament run for the first time in a long time. And it won't be easy considering the Irish find themselves in Kentucky's bracket. That being said, if you beat the presumed champ, you can pretty much do anything at that point. What Notre Dame can do, without question, is score. The Fighting Irish showed that in droves at the ACC Tournament, capturing their first ever conference tournament title.
The duo of Jerian Grant and Pat Connaughton are tailor made to be March heroes, and there are some other good pieces here (including Zach Auguste in the post, guard Demetrius Jackson, shooter Steve Vasturia and freshman Bonzie Colson). The Fighting Irish aren't going to go far if they don't defend, though.
No. 1 Wisconsin Badgers (31-3, KenPom 3, RPI 2)
You're going to hear a lot about how much of a threat Wisconsin poses to Kentucky on the broadcasts for as long as the Badgers stick around. And there are plenty of good reasons why. Bucky has two of the best college players in the country in Frank Kaminsky and Sam Dekker. Nigel Hayes and Bronson Koenig can also get it done.