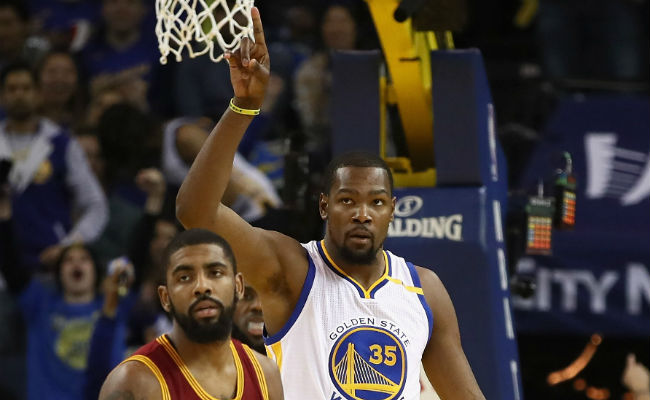 Kevin Durant clearly feels he no longer has anything to prove to anybody, and that means he's speaking his mind about a long list of things. He's talked about Donald Trump, gone in on reporters and tried to throw a teacher who slighted him in jail. He's just a kid having fun out there these days.
His latest entry into the Summer of KD scrapbook is an appreciation for Kyrie Irving's trade request out of Cleveland. Now that the deal is official and Irving has a new home in Boston, Durant is free to speak his mind on the move and he came out in favor of Irving asking for a trade.
Durant did an "ask me anything" segment on Bill Simmons' podcast on Thursday and said he appreciates what Irving did.
"He did what he was supposed to do in Cleveland," Durant said. "It's on to the next chapter."

Durant said that what Irving did, asking to change his situation despite how it would play out in the public, took "courage."
"I can really appreciate what he did," Durant said. "He stood up for himself, he showed a lot of courage, man, because it's hard to take that type of criticism. When you just want to play ball. I feel him on that."
A Durant who had yet to win a championship in Golden State might not make that kind of public statement, but we're living in a different era of the NBA now. Durant left Oklahoma City to chase a title and got his. Now he knows the noise doesn't matter all that much. It seems like Durant's message is similar here: Irving did what was best for him, and he's in favor of it no matter how it works out.
(Via SLAM)