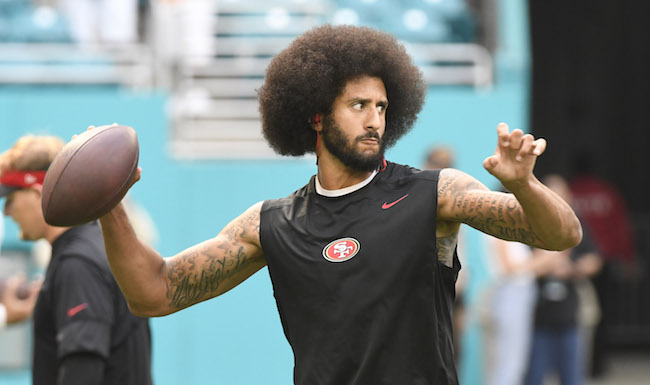 The Washington Redskins have a quarterback problem. After Alex Smith had his season ended by a gruesome leg injury they turned to backup Colt McCoy, who hadn't taken a snap in an NFL game in years.
Washington then signed Mark Sanchez to be McCoy's backup, which Jay Gruden explained was in an effort to have a backup that played the same style as McCoy (???) for whatever that is worth. Now, McCoy has suffered a broken fibula of his own, going down early in Washington's loss on Monday night against the Eagles and leaving Sanchez as their starter having only been with the organization for two weeks.
Now, the Redskins are once again on the market for a quarterback, needing someone to come in and backup Sanchez in case he too goes down. One of Washington's most famous fans has an idea that many have brought up, as Kevin Durant took to Instagram to call on the Redskins to sign Colin Kaepernick with a very simple message on his Story.


Coach Jay Gruden was asked Tuesday about Kaepernick as a possibility, and noted that he had been discussed but, like with McCoy, they wanted a backup with Mark Sanchez's skill set.
This is an argument coaches use all the time, but it loses a bit of its luster when you're talking about a quarterback most famous for something called "The Buttfumble" who just went 13-of-21 for 100 yards and 1 interception in a loss to a divisional rival. Yes, it's easier to game plan when all your quarterbacks can do the same thing, but if what they do best is "be not good" then maybe you should consider other options.
Still, somewhat lost in all of this is, while Washington should absolutely be trying to bring in a quarterback the caliber of Colin Kaepernick, given that their name is the Redskins, it seems unlikely the guy fighting strongly against racism in society would be too thrilled about joining a team with that name.